Campus Operations Updates, Social Distancing in the Classroom, University Testing Services, and more!

Return to Campus
News for Students
Message from UGA Student Affairs
Labor Day 2020 Travel Guidance
Thank you for your continuing efforts to keep the University and local communities safe and healthy this semester. As we head into the Labor Day holiday weekend, in addition to the basic steps that help us prevent illness (hand hygiene, distancing, face-coverings, etc.), we also encourage you to consider approaches for safe activity and travel.
The CDC offers specific guidelines and FAQs on travel during the COVID-19 pandemic, as does the Georgia Department of Public Health. The best way to protect yourself and others from COVID-19 is to stay home. If traveling, the same good health practices apply, but additional items to consider might be:
Opt for less risky destinations and activities (avoid crowded locations and activities).

Be aware of local restrictions.

Do not travel with anyone exhibiting coronavirus symptoms, or if you are sick.

Minimize contact with people not in your immediate group.

Ask to dine outside.
Of course, these guidelines apply whether you are traveling for vacation, going home for a few days, or staying in Athens or on campus. Each of us has an important part to play in keeping our families and home communities safe, as well as our campus and University community when we return. Continue to use DawgCheck each day, and be vigilant about your symptoms following the holiday weekend.
Have a restful and safe holiday!
Georgia Strong. Dawg Strong.
Campus Testing Update
Reports of positive cases of COVID-19 rose significantly following the first full week of classes at the University of Georgia. According to data released by UGA this morning, a total of 821 positive tests were reported through the University's DawgCheck reporting system for the period of August 24-30. Of those, 798 were students, 19 were staff and four were faculty.
The University reports test results on a weekly basis each Wednesday on the University Health Center website. The DawgCheck data consists of tests from four sources: (1) tests conducted through UGA's surveillance testing program; (2) tests conducted at the University Health Center; (3) reports from Athens-area medical providers; and (4) reports of positive tests from other sources.
Upon learning of the growing number of positive student cases, President Jere W. Morehead issued a statement to students via UGA's Twitter account: "The rise in positive tests last week is concerning. It is critically important that all of our students continue to make every effort to prioritize their health and safety by taking the proper steps to avoid exposure to this virus. I urge you: continue to wear your masks, maintain your distance from others, make wise decisions, and stay away from social venues where appropriate distancing is impossible to maintain. Resist the temptation to organize or attend a large social gathering. And, for those of you heading out of town over the Labor Day weekend, be very careful and think about the health of everyone around you. All of us must take our responsibilities very seriously as we seek to reduce the spread of COVID-19."
Vice President for Student Affairs Victor Wilson added:
"Each of us has to do our part in exhibiting good practices and behaviors and speaking up to others who aren't. Thank you to students who have embraced the guidelines for good health and safety practices. If you are not doing so, I urge you to join your peers for the overall health and safety of our campus and surrounding community. Keep exhibiting good mask wearing and physical distancing practices on and off campus. We are in this together."
Isolation Housing
The University of Georgia has set aside nearly 300 dedicated rooms on campus and is supplementing those with hundreds more in the local community where students may stay in isolation or quarantine if they are showing symptoms of, have tested positive for, or have come in close contact with someone who has contracted COVID-19.
The on-campus spaces comprise 99 rooms in University Housing and 195 more from the Georgia Center Hotel. In addition to these spaces, the University has secured nearly 200 rooms from private vendors in the local community.
Generally, all students, upon receiving the results of a positive test, are encouraged to leave campus immediately and return to their primary residence for support at home whenever possible. However, the University is providing housing for those students who are unable to return home for a variety of reasons.
UGA's Student Care and Outreach will engage with all students who require isolation and will assist them with support based on their individual circumstances.
Updates from the University Health Center
A reminder that we are all in this together. This is how we do our part. Georgia strong. Dawg Strong.
Dawgs, please stay well by social distancing (6 ft or more) indoors or outside, wearing a face covering and washing your hands with soap and water.
University Health Center Virtual Programs 
The University Health Center is offering a spectrum of services, programming, outreach and events virtually this semester to connect students and provide tools and instruction on how to navigate this new environment. These can be found on social media @ugahealthcenter #bewelluga or at uhs.uga.edu/bewelluga. 
Voluntary Surveillance Testing 
UGA is committed to volunteerism for surveillance testing for the university community. As we learn more about the efficiency and success of the randomization process, we will steadily increase the numbers of invitations to the community just as we have steadily increased capacity. Supply chain constraints continue to be a challenge in working toward a concrete numerical goal that is sustained over time.
Students who are not experiencing symptoms of COVID-19 are eligible to sign up for a slot for surveillance testing even if not invited through the randomization protocol. 
Come to Ramsey
For a workout: 


Try the climbing or bouldering wall 

Fitness classes: In-person classes (virtual classes, too) 

IMs (excellent way to meet new people!) 

ESports: Put a team together or sign up by yourself to meet new folks. 

Outdoor Recreation Clinics: Numerous clinics will be offered around campus including everything from outdoor cooking to knot tying to canoeing skills, plus many more. 

Team building options: We also have opportunities for groups to schedule various team building options or group fitness classes. 
Get Involved at the UGA Golf Course 
Students can get involved at the UGA Golf Course in a variety of ways including:  

Joining an Intramural or Club Team through UGA Rec Sports 

Signing up for a UGA P.E. Course offered at the Golf Course 

Taking advantage of student rates starting at low at $14.50 

The UGA Golf Course has resumed 7-day operations. Tee times are available Monday - Sunday from 8:00 a.m. to 3:00 p.m. The driving range, E.B. Smith Golf Clubhouse and Champions Café are open Monday - Sunday with limited capacity.  

Driving range: 7:30 a.m. to 7:00 p.m.  

E.B. Smith Clubhouse: 7:30 a.m. to 6:00 p.m.  

Champions Café: 7:30 a.m. to 5:30 p.m. 
DawgsTogether: A Peer Allies Program
Introducing DawgsTogether: A Peer Allies Program connecting incoming first-year and transfer students with peer leaders to explore campus opportunities, get connected, discover academic support networks and foster success mindsets. The program is a partnership of the Division of Academic Enhancement, the Division of Student Affairs and New Student Orientation.
Through DawgsTogether, you can interact with a Peer Ally through individual or group sessions, or by joining an interactive workshop. How you engage is up to you!
For more information on DawgsTogether, visit dae.uga.edu/services/peer_allies.
101 Things for Students to do in Athens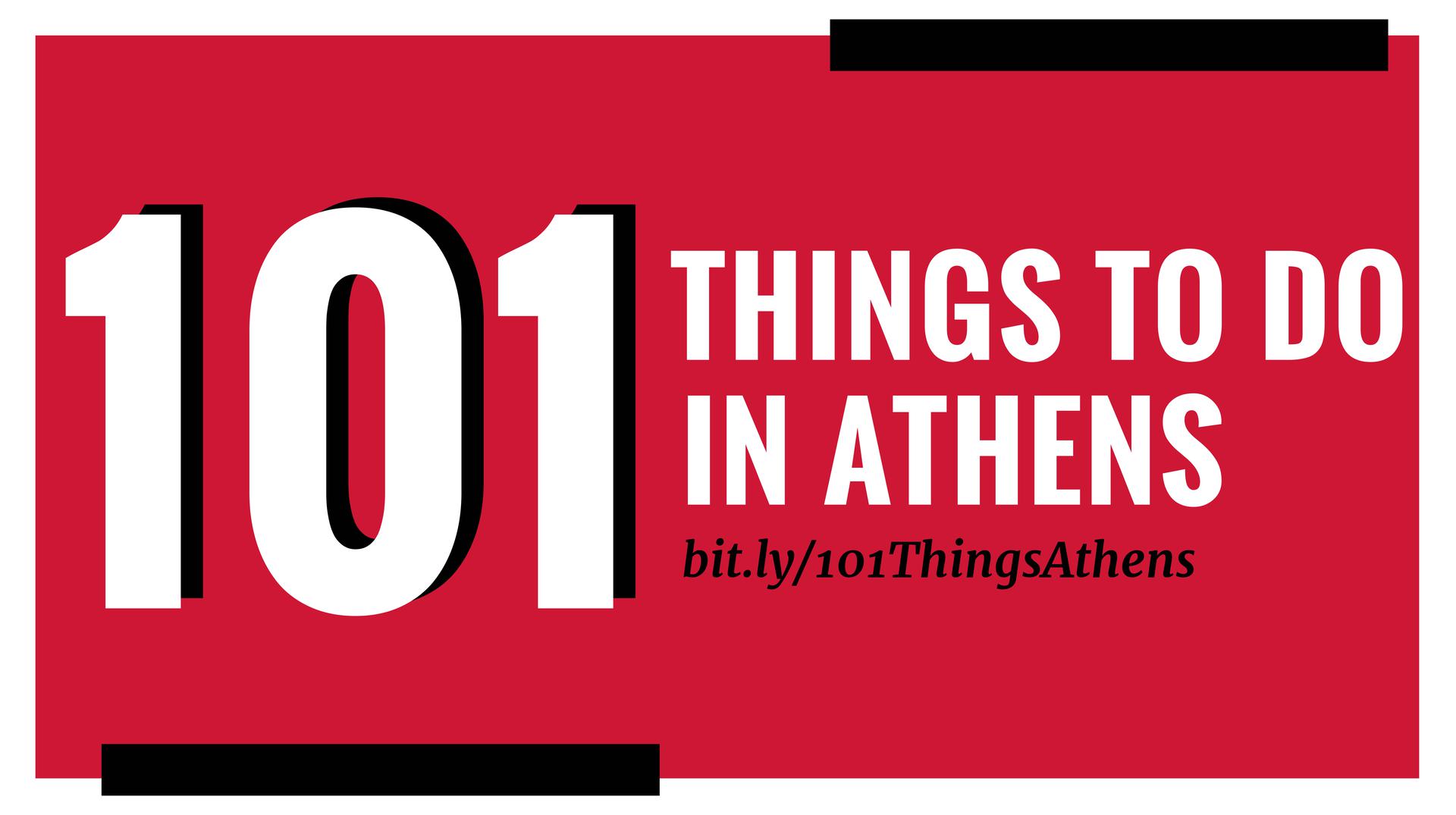 We've compiled a list of 101 things for you to do in Athens—all of which can be done while observing social distancing guidelines.
Even during a pandemic, it isn't hard to find a ton of things to do in town and on campus, from virtual fitness classes to do-it-at-home art projects and exploring the outdoors.
Don't Miss These Upcoming Events
Virtual Involvement Fair: Sept. 3 from 7-10 p.m. on the Involvement Network (involve.uga.edu).  
Taste of Athens Virtual Cooking Demo and Q&A with Chef Hugh Acheson: Sept. 4 at 6 p.m. on Zoom. Register here.
Dawg Day(s) of Service: Sept. 5 and Oct. 17. Check out the Facebook event. 
The movies are back at the Tate Theatre. The full movie schedule for the semester can be found here.
More University Union events will be released throughout the semester. Follow  @ugaunion on social, or visit union.uga.edu for updates.
Academic Event Scheduling Update  
Campus Reservations, Events & Technical Services will be accepting reservations for both Departmental and Student Organizations' meetings and events in academic/classroom spaces starting Monday, Aug. 31 for reservations between Sept. 8 and Dec. 10.
New guidelines have been established for accommodating reservation requests for this time period. Read more at the following link.
One Stop Shop 
The Auxiliary Services One Stop Shop is located on Tate Plaza and is open Monday – Friday from 8:00 a.m. - 5:00 p.m. to assist you with services such as meal plans and parking permits. 
A few additional services offered include: