Campus Operations Updates, Social Distancing in the Classroom, University Testing Services, and more!

Fall 2020
News for Students
Help Maintain Efforts to Flatten the Curve
For the third week in a row, positive cases of COVID-19 among faculty, staff and students declined sharply—this time dropping to the lowest number to date: 63 cases during the week of September 21 – 27.
Of the positive cases reported through the University's DawgCheck system, 52 were students, nine were staff and two were faculty members. The positivity rate at UGA's surveillance testing site, where 1,490 tests were administered, dropped to 1.95%.
"Once again, we are very encouraged by these results," said Dr. Garth Russo, executive director of the University Health Center and chair of UGA's Medical Oversight Task Force. "However, I was disappointed to see that participation in our surveillance testing dropped after a record high last week. We can test about 500 individuals a day at Legion Field, yet we averaged only around 300 per day last week. We need strong, sustained participation in our testing program to maintain the progress we are making against this disease."
Sign up for UGA's Surveillance Testing
Visit the surveillance testing portal via the University Health Center's website to schedule an appointment for asymptomatic testing at Legion Field. With our increased capacity, we are often able to accommodate same day appointments.
In cases where there is same-day availability, Legion Field staff will accept walk-up appointments. Individuals will need to register onsite, but the likelihood is that they will be accommodated.
Check Your Symptoms Before Coming to Campus

New Fitness Options Available with Rec Sports 
Have COVID-19, quarantine and working from home caused you to be less active and more stressed? Now it is more important than ever to take care of your mental and physical wellbeing. We all know that exercise benefits our strength and cardiovascular function, but did you also know that regular exercise can boost your immune system, fight depression and anxiety, give you more energy and help you sleep better?   

If you are ready for better health and wellness, the department of recreational sports is committed to helping you. To better serve the UGA community, NEW outdoor and virtual fitness options are now available in addition to our in-house options.
Spring 2021 Instruction 
Classes offered in Spring 2021 will continue to follow in-person instruction with social distancing. Classes will be offered in a mix of in-person, hybrid, and online formats. All on-campus classes and activities will continue to require social distancing measures that are currently in place. 
Spring 2021 Accommodations 
All faculty, staff and graduate assistants who received a COVID-19/ADA-related accommodation during the Fall 2020 Semester may continue to use their approved accommodations during the Spring 2021 Semester unless notified otherwise. Individuals may seek a new or different COVID-19 related accommodation for the 2021 Spring Semester if they fall within one of the categories for increased risk of severe illness from COVID-19, as defined by the CDC. 
Capturing Science Contest 
The UGA Libraries invites students to compete in the Fourth Annual Capturing Science Contest. The competition, co-sponsored by the Office of Research, offers cash prizes for students who convey STEM (science, technology, engineering and mathematics) concepts in creative and compelling projects that range from artistic endeavors to classroom activities, games and videos. The deadline for virtual submissions is 5 p.m. on Dec. 7, 2020. 

In addition to the prizes of $1,000, $800, $600 and $400 to the top four submissions in any STEM field or medium, this fall the organizers are offering a special prize for students who engage with one of two topics that have greatly impacted the campus community in 2020. To be eligible for the $200 prize, students may submit projects that convey research or information on COVID-19 or racial and ethnic justice. Undergraduate and graduate students pursuing any degree are eligible for the prizes. 
Home Game Social Distancing Guidelines 
As outlined in the Sept. 15 statement from UGA Athletic Association, due to the current COVID-19 pandemic, tailgating will not be permitted on the University of Georgia campus for the 2020 football season. Recognizing fans will be traveling long distances, fans arriving for the game will be permitted to gather at their vehicle until kick-off for light refreshments after their travels. To better clarify the expectations for the day and to help promote a safe environment, maintain social distancing throughout campus and to follow local, state and CDC guidelines, we are implementing the following guidelines while on campus for game days. 
Know Your Voting Options 
Are you registered? Do you need to register? Do you know your options for where, when and how to vote? Click below to view voting information, including helpful links for verifying voter registration, registering to vote, voting locations on campus and in Athens-Clarke County, as well as information for how to vote by mail, vote in advance, and election day voting.
Food Truck Options on Campus 
Dining Services continues to partner with local food trucks to bring additional dining options to campus. Meals can be purchased using Paw Points, Bulldog Bucks, cash, credit and debit. While the food trucks accept Paw Points held by some meal plan participants, they do not accept all-access or block swipes. Click here for the current food truck schedule.
Deadline to Purchase 180 Block or Commuter Meal Plans 
Students interested in purchasing a 180 block or commuter meal plan should do so by 7 a.m. on Oct. 5, 2020. Because blocks do not roll from fall to spring semester, these plans have a purchasing deadline to ensure participants have ample time to use their plan. Students who would like to purchase a meal plan past this date are encouraged to contact the One Stop Shop to discuss available meal plan options including prorated all-access plans in order to find the plan that best fits their needs. The 180 block or commuter meal plan may be purchased for spring semester in mid-November.  
Game Day Dining Hours 
On Oct. 3, 2020, Chick-fil-A, the Market at Tate, Niche Pizza Co. and Starbucks will open three hours prior to kick-off. These locations will close at kick-off. Take-out options will be available. No inside dining will be permitted. The Grill Tent and Last Chance Drink Tents at Tate will be closed. 

Bolton and the Village Summit will be open regular hours to meal plan participants only (O-House, Snelling, and the Niche are closed on weekends). The Quick Markets will be open to meal plan customers from noon to kickoff. 
UGA Bookstore Open on Game Day 
The UGA Bookstore will be open on Oct. 3, from 8 a.m. to midnight. The Bookstore will have tents set up around the stadium three hours prior to kick-off, as well as a clearance tent set up next to the One Stop Shop. You can also head to the Bookstore for a special autograph signing featuring legendary coach Vince Dooley and former star running back Garrison Hearst from 5 - 7 p.m. Please be mindful that wearing a face covering in our store is required at all times. 
Virtual Q&A with Maria Taylor
Join University Union and host of ESPN's NBA Countdown, Maria Taylor, for a moderated Q&A over Zoom on Oct. 1 at 7 p.m.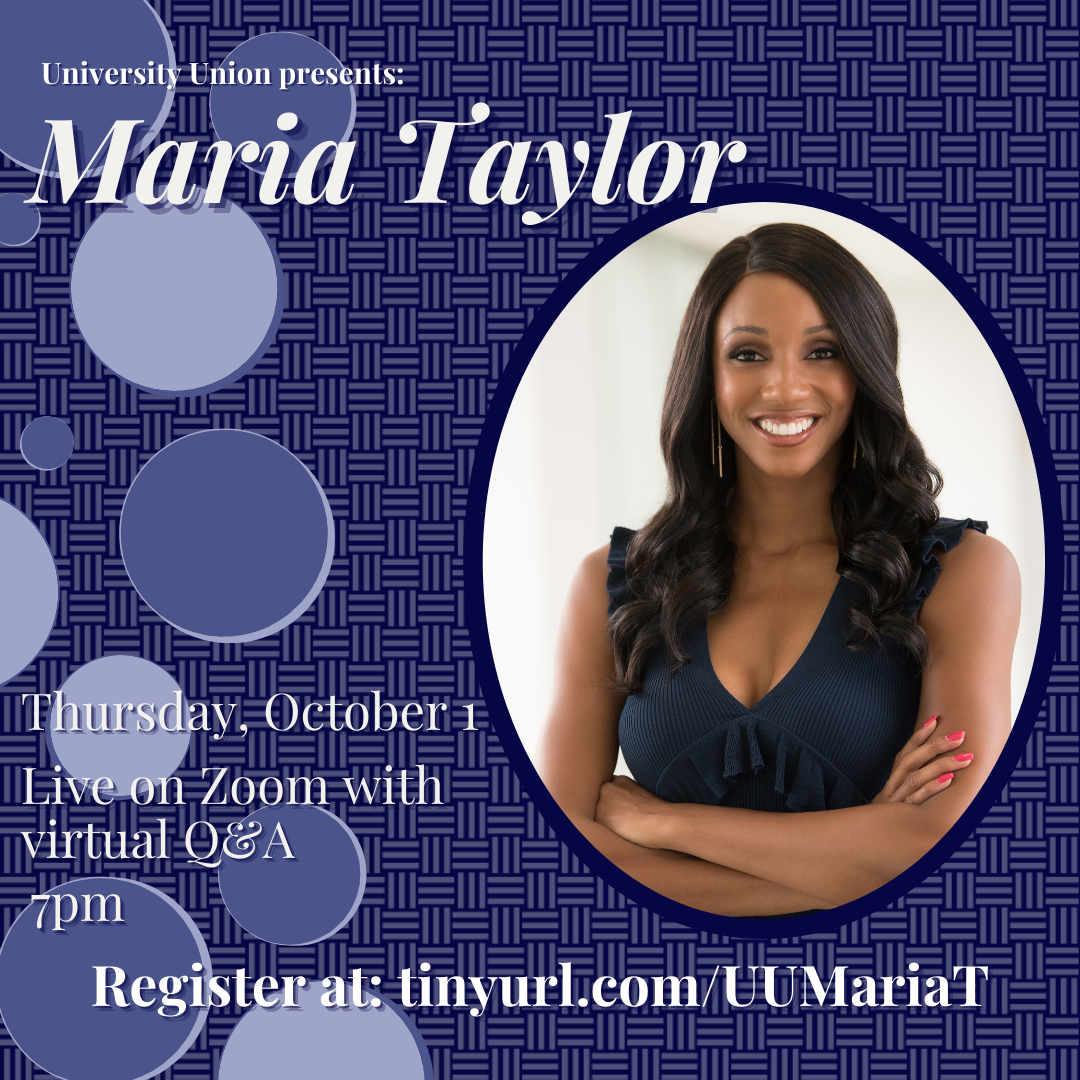 Apply to join the Student Alumni Council
The Student Alumni Council (SAC) inspires a culture of commitment to UGA through their programming, touching the areas of alumni connection, traditions, and philanthropy. Get leadership experience and an experiential learning credit for your work. Apply to be a member of the 2020-2021 SAC or come to an information session to learn more!
SPOC Satellite Virtual Launch
Join UGA for an out of this world experience as the UGA Small Satellite Research Lab partners with NASA to launch a student-built satellite into space. That's right, Bulldogs are taking their commitment to solving grand challenges all the way to the International Space Station – and you can join in this historic moment right from your living room. Watch the event LIVE Oct. 1! We'll see you there in … 3 … 2 … 1 …
Beat Week
The Student Alumni Council presents Beat Week 2020! We're facing off with Auburn in a student giving challenge, so find out how to help us beat Auburn at AUvUGA.com and make sure to show your Bulldog Spirit all week long. Check out our events happening through the end of the week and find out how to participate!