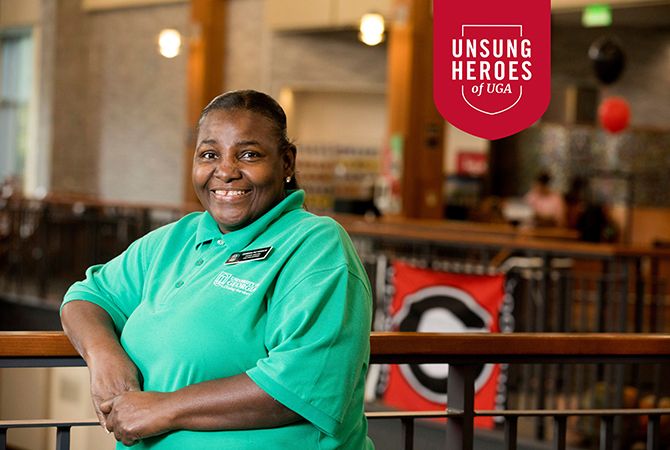 Miss Sandra, aka Sandra Patterson, is famous for her hugs as well as the joy and love she's brought to decades of students as a Snelling Dining Commons cashier. Miss Sandra sees herself as an unofficial mom, grandma and auntie to every student who comes through her line. When Snelling closed during the pandemic, Miss Sandra moved over to Bolton Dining Commons and has been working extra hard there to make this new crop of freshmen feel loved. Without her trademark big hugs, she's making do with elbow bumps and virtual hugs (a big, exaggerated no-touch version that's about as close as you can get to the real thing). The joy Miss Sandra brings to everyone she meets is well appreciated.  
In this Issue:
Get tested for COVID-19 before the holidays

Get your flu shot on campus

Get a free vehicle inspection through Operation Safe Drive

Sign up for the Jingle Bell Fun Run 2020 

UGA research remains under Phase 3 protocols for spring 2021

Faculty nominations open for Rural Engagement Workshop
Many Opportunities to Get Tested on Campus Before the Holidays!  
Starting on Nov. 9, the University of Georgia is urging the campus community to help reduce the spread of COVID-19 by getting tested prior to heading home for the holidays.  
Free, walk-up asymptomatic-only testing is offered for all UGA community members. In addition to the existing surveillance site at Legion Field, "pop-up" testing sites will be available across campus with many daily options to choose from.
Bring your UGA ID. 
Do not eat, drink or smoke/chew tobacco 30 minutes before your test for testing at the pop-up sites.
Get tested now; check out the daily calendar here. 
If you would like to schedule an appointment, you may register for surveillance testing at Legion Field.  Appointments or walk-ups are available Monday - Friday 9:30 a.m. - 3:30 p.m. The Legion Field testing schedule will follow the University of Georgia calendar for closure. 

***For the next few weeks, we are giving away specially designed University of Georgia face coverings, "Georgia Strong. Dawg Strong." t-shirts, or coupons for on-campus retail dining locations or the University Bookstore, courtesy of the President's Venture Fund. You will receive one of these items as a thank you for your participation.
Remember to Check your Symptoms Before Coming to Campus

Get Your Flu Shot on Campus   
Be prepared for flu season. Several options are available to get your flu shot this season: 
All UGA Community (students, faculty and staff): 
NEW for 2020: Walk-in flu shots are available at the UHC Pharmacy, Monday - Friday, 8 a.m. – 5 p.m. 
Make an appointment with the UHC Travel Clinic: 706-542-5575.
Students can also make an appointment with a UHC Primary Care provider online at uhs.uga.edu or call 706-542-1162. 
Please bring your UGA ID and insurance information. 
Seasonal Lunches Available for Pick-up or Delivery to On-campus Offices 
UGA Campus Catering is cooking up a special seasonal menu perfect for a virtual office luncheon on Dec. 10, 11, 17 and 18!  
Meals are served hot and include your choice of an entrée, sides and a dessert for $12.95 per person for groups of 15 or more. 
Customers can place their group meal order Nov. 9 - 20 by emailing catering@uga.edu or calling (706) 583-0892, Monday – Friday, 8 a.m. – 5 p.m. Meals can be picked up from Joe Frank Harris on East Campus or delivered to your on-campus office.* 
*Delivery is available for a $20 fee on orders of 25 or more. Each group order will be delivered to one designated location.
Operation Safe Drive 
On Nov. 24, University of Georgia students, faculty and staff are invited to have their vehicle inspected for free at the Tate Center Parking Deck during Transportation and Parking Services' annual Operation Safe Drive event to help drivers prepare for safe travel during the holidays. 

To ensure social distancing is maintained, drivers will remain in their vehicle while mechanics from UGA Transportation and Parking Services top off fluids, check belts and wiper blades, pressurize tires and do a quick visual inspection of vehicles. 
No car? No problem – the UGA Office of Sustainability in partnership with Bike Athens will offer free bicycle safety inspections and tune-ups. 

"Pop-up" Surveillance Testing will also be available during Operation Safe Drive for all UGA community members. Bring your UGA ID. Do not eat, drink or smoke/chew tobacco 30 minutes before your test. 
Jingle Bell Fun Run 2020 Benefiting Toys for Tots
This year's Jingle Bell Fun Run looks a little different—we will be open ALL DAY so that you may tour the rolling, scenic 3.1-mile paved trail at the UGA Golf Course at your leisure. We understand the importance of mental wellness and the benefits that getting out in nature and physical activity provide. We will minimize the number of participants/group sizes at one time to maintain a safe, nurturing environment for you to enjoy and furry friends are welcome to participate in the 5K run/walk! 
Tuesday, Nov 17, 7 a.m. - 5 p.m. 
Registration: Sign up online for a time to run/walk or walk-up on the day of the event.* 
UGA students: Donate $5 or a new, unwrapped toy and receive an event t-shirt! (For the first 75 to donate).
* Walk-up participants: It may take 10-15 minutes to get you on the course as we will be mindful of minimizing groups on the course at one time. Markers will indicate where to stand in the parking lot. 
Phase 3 Continues for Spring Research Operations 
Provided circumstances do not require a return to earlier phases, UGA will remain under Phase 3 protocols at the beginning of the
Spring 2021 semester. Research Resumption Plans are still required for all new or newly resuming onsite research activity. Investigators currently working under an approved Research Resumption Plan do not need to submit a new plan for spring unless their indoor occupancy plans for research spaces will change, in which case the existing RRP must be updated accordingly and resubmitted for approval. For more information, visit the Research Operations FAQ.  
Outreach: PS&O and Extension
Nominations Underway for Rural Engagement Workshop   
UGA colleges and schools have until Nov. 23 to nominate academic faculty to participate in the inaugural Rural Engagement Workshop, coordinated by UGA Public Service and Outreach, the School of Social Work and Cooperative Extension.  
The workshop is designed to build momentum for high quality, community-engaged research in rural Georgia communities. Through this program, academic faculty will recognize the benefits of collaborating with PSO and Extension to conduct successful community engaged scholarship in rural Georgia. Participants will learn about PSO's and Extension's existing local networks across the state, which can provide important local contextual information to aid in the researcher's success. 
See the program web page for more information, including how to apply. 
Landscaping with Native Plants 

At 6 p.m. Nov. 11, please join UGA Cooperative Extension in Athens-Clarke County for an online presentation on native species of the Southeast, with topics including seasonal planning with native plants; planting for pollinators, birds and wildlife; and creating rain gardens. Gardeners of all experience levels are welcome to register for free at extension.uga.edu.