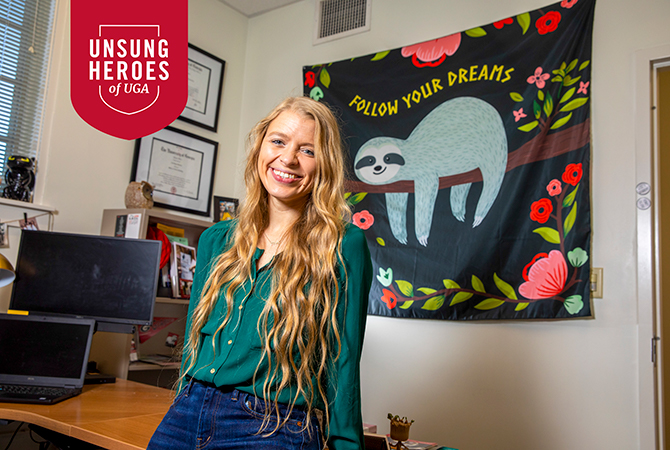 Ali Gerlach, a proud Double Dawg and this week's Unsung Hero, is the lead intended-journalism advisor at the Exploratory Center, where students with unspecified majors, intended-business and intended-journalism majors can seek advisement. Many incoming freshmen had missed out on proms and graduations and were facing a very nontraditional first-year college experience, so she took extra care to plan their orientation and academic experiences to be as positive as possible, despite the pandemic. Read more about how Ms. Gerlach helps student find their way through services in the Exploratory Center. 
In this Issue:
Get tested for COVID-19 before the holidays.

Get your flu shot on campus.

De-stress with virtual fitness classes.

Dining and Bookstore hours altered for game day.

Register for Cookies and Cocoa with Hairy Dawg.
Many Opportunities to Get Tested on Campus Before the Holidays!  
The University of Georgia is urging the campus community to help reduce the spread of COVID-19 by getting tested prior to heading home for the holidays.  

"Pop-up" Surveillance Testing will be available across campus with many daily options to choose from.  Free, walk-up asymptomatic-only testing is available for all UGA community members.  
Bring your UGA ID.  
Do not eat, drink or smoke/chew tobacco 30 minutes before your test for testing at pop-up locations.
Get tested now; check out the daily calendar here. 
If you would like to schedule an appointment, you may register for surveillance testing at Legion Field.  Appointments or walk-ups are available Monday - Friday 9:30 a.m. - 3:30 p.m. The Legion Field testing schedule will follow the University of Georgia calendar for closure. 

***For the next few weeks, we are giving away University of Georgia face coverings, "Georgia Strong. Dawg Strong." t-shirts, or coupons for on-campus retail dining locations or the University Bookstore, courtesy of the President's Venture Fund. You will receive one of these items as a thank you for your participation. 
Remember to Check your Symptoms Before Coming to Campus

Get Your Flu Shot on Campus   
Be prepared for flu season. Several options are available to get your flu shot this season.
All UGA Community (students, faculty and staff): 
NEW for 2020: Walk-in flu shots are available at the UHC Pharmacy, Monday - Friday, 8 a.m. – 5 p.m. 
Make an appointment with the UHC Travel Clinic: 706-542-5575.
Students can also make an appointment with a UHC Primary Care provider online at uhs.uga.edu or call 706-542-1162. 
Please bring your UGA ID and insurance information. 
De-Stress with Fitness! 
Recreational Sports is offering FREE access to virtual fitness classes from Nov. 30 through Dec.18. Go from distressed to de-stressed with this limited-time, free fitness resource. Fitness on-demand classes are open to the entire UGA community by following these easy steps: 
Download the Advagym app. 
Use this link for access to the Rec Sports fitness on-demand library. 
Free access open Nov. 30 – Dec. 18.
*Access to fitness on-demand classes will be available next semester to pass holders only. For more information, visit recsports.uga.edu. 
Hosting a Virtual Office Party? Have fun with a seasonal luncheon & games!
Challenge your colleagues to a game of virtual bingo or host a virtual white elephant exchange while enjoying a seasonal luncheon delivered to your office.  
UGA Campus Catering is cooking up a special menu featuring oven roasted turkey, maple glazed ham, vegetable strudel and more on Dec. 10, 11, 17 and 18!  Meals are served hot and include your choice of an entrée, sides and a dessert for $12.95 per person for groups of 15 or more.
Customers can place their group meal order Nov. 9 – Dec. 4 by emailing catering@uga.edu or calling (706) 583-0892, Monday – Friday, 8 a.m. – 5 p.m. Meals can be picked up from Joe Frank Harris on East Campus or delivered to your on-campus office.* 
 
*Delivery is available for a $20 fee on orders of 25 or more. Each group order will be delivered to one designated location.
Operation Safe Drive
On Nov. 24, University of Georgia students, faculty and staff are invited to have their vehicle inspected for free at the Tate Center Parking Deck from 10 a.m. - 2 p.m. during Transportation and Parking Services' annual Operation Safe Drive event to help drivers prepare for safe travel during the holidays. 
Game Day Dining Hours
On Nov. 21, 2020, Chick-fil-A, the Market at Tate, Niche Pizza Co. and Starbucks will open three hours prior to kick-off. These locations will close at kick-off. Take-out options will be available. No inside dining will be permitted. The Grill Tent and Last Chance Drink Tents at Tate will be closed.  
 
Bolton and the Village Summit will be open regular hours to meal plan participants only (O-House, Snelling and the Niche are closed on weekends). The Quick Markets will be open to meal plan customers from 4:30 p.m. to kickoff.  
UGA Bookstore Open on Game Day  
The UGA Bookstore will be open on Nov. 21, from 10 a.m. to 12:30 a.m. The Bookstore will have tents set up around the stadium three hours prior to kick-off with a wide variety of merchandise. You can also head to the Bookstore for a special autograph signing featuring legendary coach Vince Dooley and former UGA great David Greene from 5 - 7 p.m. Please be mindful that wearing a face covering in our store is required at all times. 
Thanksgiving Week Dining Hours  
Dining Services' updated schedule for the week of Thanksgiving can be found here. 
Library Resources Webinar  
Faculty, as your students transition to online classes, please encourage them to learn about the library resources they can access through a webinar this week. Graduate and undergraduate students can participate in the free webinar, co-hosted by the UGA Libraries and the Office of Online Learning. During the session, slated for 3 p.m. Thursday, Nov. 19, librarians will discuss services for distance learners, how to navigate e-books and other resources, including Google Scholar, and answer questions.  
Hours and Services at the Libraries
Students and faculty in the University of Georgia community can continue to take advantage of library services after the Thanksgiving transition to online classes, whether in Athens or at home in another state.
In addition to online resources and virtual consultations with librarians and archivists, library facilities, including the Miller Learning Center, will remain available to students, faculty, staff and the community through the remainder of the year and into the spring semester.
For hours and information on digital resources, including virtual chat with a librarian, go to libs.uga.edu.
Development & Alumni Relations
Hunker Down & Huddle Up with Members of the 1980 National Championship Team 
This year, the Alumni Association is bringing the Bulldog Nation into the huddle to relive pivotal moments in UGA football history with the people who made them happen. Hunker Down & Huddle Up is a semi-regular virtual event where you can hear from Bulldog legends themselves. They'll talk about their time at UGA, answer questions from fellow Bulldogs and weigh in on the 2020 season. The huddle happens Tuesday, Nov. 17 at 7 p.m. 
Between the Pages: Stuff You Should Know's Chuck Bryant 
Grab your book or e-reader for the UGA Alumni Association's Between the Pages virtual book club. The next book is Stuff You Should Know: An Incomplete Compendium of Mostly Interesting Things (released 11/24/20) by Josh Clark (M '99) and Chuck Bryant (AB '95), the duo behind the award-winning podcast Stuff You Should Know. Optional ongoing discussions of the book will take place on Goodreads and our exclusive gathering with Chuck will take place via Zoom on Dec. 2 at 7 p.m.
Cookies and Cocoa with Hairy Dawg 2020 
The Women of UGA Leadership Council is proud to present Cookies and Cocoa with Hairy Dawg, taking place virtually this year! The fundraising event will feature appearances by Hairy Dawg and other special guests as they facilitate family-friendly activities, including cookie decorating, letters to Uga, questions for Hairy and much more. 

When you register, you will be sent a box of Bulldog goodies* to keep the UGA spirit going all throughout this special time of year! Your event registration will include a donation to the Women of UGA Scholarship Fund which helps remove financial barriers for UGA students. It is a great way to spread Bulldog cheer! 
*The box is not necessary to participate in the event, but if you would like to receive it prior, be sure to register by Nov. 26.