Campus Operations Updates, Social Distancing in the Classroom, University Testing Services, and more!

Fall 2020
News for Students
Record High in Surveillance Testing Participation and Low in Positivity Rate
Record numbers of students, faculty and staff are being tested for COVID-19 at the University of Georgia in the weeks leading up to the Thanksgiving holiday, and the positivity rate for surveillance testing is at an all-time low.
UGA has expanded its testing capacity and incentivized participation, and in response, 2,544 members of the UGA community were tested at the main testing site at Legion Field or at satellite "pop-up" locations around campus last week. Of those, 24 individuals tested positive, for a .94% positivity rate—the lowest level since UGA began surveillance testing in August.
Overall, 78 individuals reported positive tests through the DawgCheck system for November 9 – 15. Of those, 60 were students, 17 were staff, and one was a faculty member.
Many Opportunities to Get Tested on Campus Before
the Holidays! 
The University of Georgia is urging the campus community to help reduce the spread of COVID-19 by getting tested prior to heading home for the holidays.  

Free, walk-up asymptomatic-only testing is offered for all UGA community members.  In addition to the existing surveillance site at Legion Field, "pop-up" testing sites will be available across campus with many daily options to choose from. 

Bring your UGA ID.  

Do not eat, drink or smoke/chew tobacco 30 minutes before your test for testing at the pop-up sites.

Get tested now; check out the daily calendar here. 
If you would like to schedule an appointment, you may register for surveillance testing at Legion Field.  Appointments or walk ups are available Monday - Friday 9:30 a.m. - 3:30 p.m. The Legion Field testing schedule will follow the University of Georgia calendar for closure. 

***For the next few weeks, we are giving away University of Georgia face coverings, "Georgia Strong. Dawg Strong." t-shirts, or coupons for on-campus retail dining locations or the University Bookstore, courtesy of the President's Venture Fund. You will receive one of these items as a thank you for your participation.

Check Your Symptoms Before Coming to Campus

Get Your Flu Shot on Campus 
Be prepared for flu season. Several options are available to get your flu shot this season: 

Make an appointment with your UHC Primary Care provider online at uhs.uga.edu or call 706-542-1162.  

Make an appointment with the UHC Travel Clinic: 706-542-5575.

NEW for 2020: Walk-in flu shots are available at the UHC Pharmacy, Monday - Friday, 8 a.m. – 5 p.m. 

Please bring your UGA ID and insurance information.  
Free Access to Daily Mental Wellness Support 
As a member of the UGA community, you have free access to mental wellness support whenever and wherever you are, whether you are home for the holidays, or staying on campus until the end of the semester. The goal of TAO, Therapy Assistance Online, is to provide online and mobile tools to help you conquer the day-to-day struggles of general stressors like anxiety and depression, or specific troubles like relationships and addiction. TAO Includes interactive sessions, mindfulness exercises and practice tools all aimed at helping you achieve your goals. Click here for more information and how to access this free resource tool.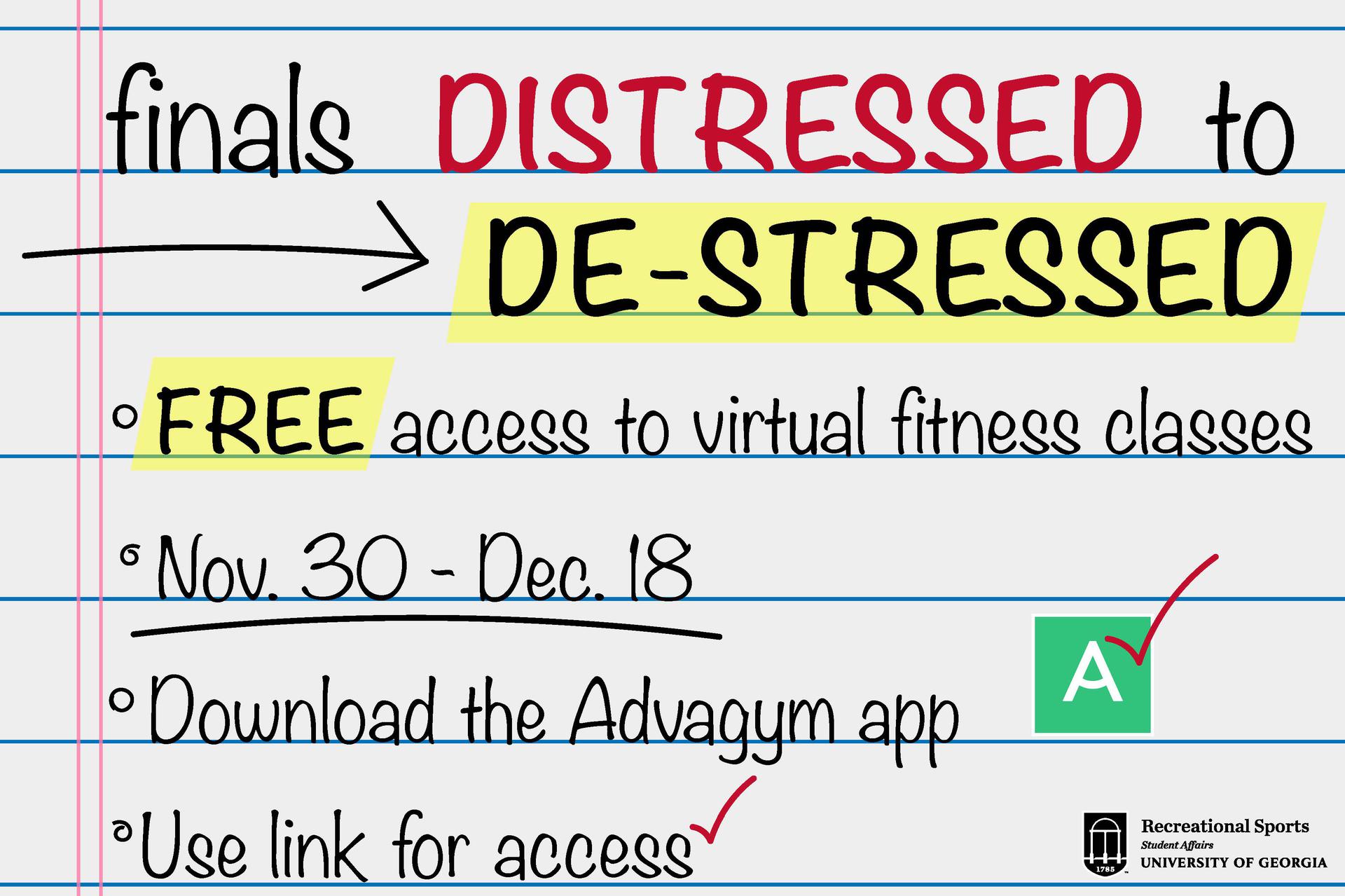 Recreational Sports is offering FREE access to virtual fitness classes from Nov. 30 through Dec. 18. Go from distressed to de-stressed with this limited-time, free fitness resource. Fitness on-demand classes are open to the entire UGA community by following these easy steps: 
Download the Advagym app. 

Use this link for access to the Rec Sports fitness on-demand library. 

Free access open Nov. 30 – Dec. 18.

*Access to fitness on-demand classes will be available next semester to pass holders only. For more information, visit recsports.uga.edu.  
Virtual Library Resources Webinar
Just in time for the transition to online classes after Thanksgiving, students can learn more about how to navigate library resources virtually in a free webinar, co-hosted by the UGA Libraries and the Office of Online Learning. During the session, slated for 3 p.m. Thursday, Nov. 19, librarians will discuss services for distance learners, how to navigate e-books and other resources, including Google Scholar, and answer questions.
Hours and Services at the Libraries
Students and faculty in the University of Georgia community can continue to take advantage of library services after the Thanksgiving transition to online classes, whether in Athens or at home in another state.
In addition to online resources and virtual consultations with librarians and archivists, library facilities, including the Miller Learning Center, will remain available to students, faculty, staff and the community through the remainder of the year and into the spring semester.
For hours and information on digital resources, including virtual chat with a librarian, go to libs.uga.edu.
Enjoy a Special Homecoming Menu and New Premium Entrées from Dining Services 
Bolton, O-House and Village Summit invite meal plan customers to enjoy a special homecoming menu on Wednesday, Nov. 18, starting at 4 p.m. Menu items include barbecue, buffalo chicken dip, baked beans and more. Meal plan participants may choose to dine-in or take a meal to-go to enjoy this special menu. Snelling will also offer a unique homecoming menu through Grubhub. 
Plus, Dining Services is now featuring a premium entrée dinner every Sunday evening at the Village Summit. This Sunday, Nov. 22, meal plan customers can enjoy peel-and-eat shrimp with roasted baby potatoes and corn on the cob from 4 p.m. until close. 
Game Day Dining Hours
On Nov. 21, 2020, Chick-fil-A, Niche Pizza Co. and Starbucks will open three hours prior to kick-off. These locations will close at kick-off. Take-out options will be available. No inside dining will be permitted. The Grill Tent and Last Chance Drink Tents at Tate will be closed.  
 
Bolton and the Village Summit will be open regular hours to meal plan participants only (O-House, Snelling and the Niche are closed on weekends). The Quick Markets will be open to meal plan customers from 4:30 p.m. to kickoff.
UGA Bookstore Open on Game Day  
The UGA Bookstore will be open on Nov. 21, from 10 a.m. to 12:30 a.m. The Bookstore will have tents set up around the stadium three hours prior to kick-off with a wide variety of merchandise. You can also head to the Bookstore for a special autograph signing featuring legendary coach Vince Dooley and former UGA great David Greene from 5 - 7 p.m. Please be mindful that wearing a face covering in our store is required at all times. 
Operation Safe Drive 
On Nov. 24, University of Georgia students, faculty and staff are invited to have their vehicle inspected for free at the Tate Center Parking Deck from 10 a.m. - 2 p.m. during Transportation and Parking Services' annual Operation Safe Drive event to help drivers prepare for safe travel during the holidays.