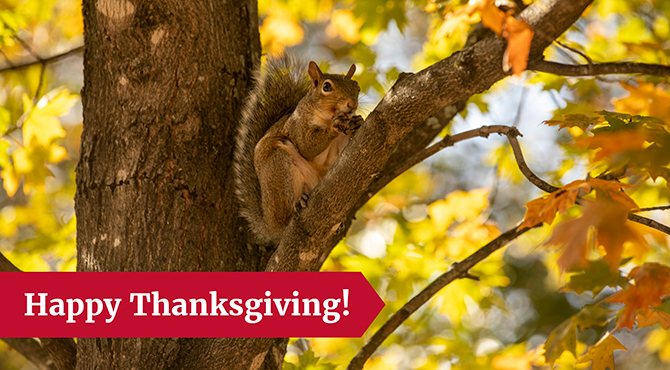 In this Issue:
Remember to use DawgCheck while away from campus.

There's still time to get a COVID test before the holidays.

Take advantage of free mental wellness support resources.

Libraries remain open to students through the semester.

Faculty resources available for transitioning classes online.
Remember to DawgCheck While Away from Campus 
Instruction is transitioning online after the Thanksgiving break. While many students may choose not to return to Athens after Thanksgiving Break, the University will remain open after the break and will continue providing regular campus operations and student life services—such as housing, dining, health/wellness centers and campus transit—until the end of the Fall semester. 
If you receive a positive COVID-19 diagnosis at any point, you are required to report those results through DawgCheck, even while not on campus.

Many Opportunities to Get Tested on Campus Before
the Holidays!  
The University of Georgia is urging the campus community to help reduce the spread of COVID-19 by getting tested prior to heading home for the holidays.  
There will be no Legion Field OR pop-up testing Wednesday,
Nov. 25. However, the University Health Center will perform the following COVID-19 testing:
Symptomatic individuals

Students only—visit with your UHC primary care provider.
Faculty and staff—make an appointment with your community provider.

Asymptomatic individuals (students, faculty and staff)—walk up from 9 a.m. – 3 p.m. to allow individuals to have their test results before Thanksgiving. 

Bring your UGA ID.  
Do not eat, drink or smoke/chew tobacco 30 minutes before your test.
After Thanksgiving, asymptomatic-only testing is also available at Legion Field. If you would like to schedule an appointment, you may register for surveillance testing. Walk-up appointments can be made Monday – Friday 9:30 a.m. – 3:30 p.m. while spots are available. The Legion Field testing schedule will follow the University of Georgia calendar for closure except for Dec. 24, when the surveillance testing site will be closed. 
Get Your Flu Shot on Campus   
Be prepared for flu season. Several options are available to get your flu shot this season.
All UGA Community (students, faculty and staff): 
NEW for 2020: Walk-in flu shots are available at the UHC Pharmacy, Monday – Friday, 8 a.m. – 5 p.m. 
Make an appointment with the UHC Travel Clinic:
706-542-5575.
Students can also make an appointment with a UHC Primary Care provider online at uhs.uga.edu or call 706-542-1162. 
Please bring your UGA ID and insurance information. 
De-Stress with Fitness! 
Recreational Sports is offering FREE access to virtual fitness classes from Nov. 30 through Dec. 18. Go from distressed to de-stressed with this limited-time, free fitness resource. Fitness on-demand classes are open to the entire UGA community by following these easy steps: 
Download the Advagym app. 
Use this link for access to the Rec Sports fitness on-demand library. 
Free access open Nov. 30 – Dec. 18.
*Access to fitness on-demand classes will be available next semester to pass holders only. For more information, visit recsports.uga.edu. 
Free Access to Daily Mental Wellness Support 
As a member of the UGA community, you have free access to mental wellness support whenever and wherever you are, whether you are home for the holidays, or staying on campus until the end of the semester. The goal of TAO, Therapy Assistance Online, is to provide online and mobile tools to help you conquer the day-to-day struggles of general stressors like anxiety and depression, or specific troubles like relationships and addiction. TAO Includes interactive sessions, mindfulness exercises and practice tools all aimed at helping you achieve your goals.
Click here for more information and how to access this free resource tool.
Hours & Services at the Libraries 
Students and faculty in the University of Georgia community can continue to take advantage of library services after the Thanksgiving transition to online classes, whether in Athens or at home in another state. 
In addition to online resources and virtual consultations with librarians and archivists, library facilities, including the Miller Learning Center, will remain available to students, faculty, staff and the community through the remainder of the year and into the spring semester. 
For hours and information on digital resources, including virtual chats with a librarian, go to libs.uga.edu.
Fostering Connection in Hybrid and Online Formats   
Learn updated strategies on establishing and maintaining connection with and among your students while using hybrid and online instruction. 
Exam Proctoring  
All classes and final exams must move online after Thanksgiving. The online proctoring solution Respondus Monitor is available to provide artificial intelligence proctoring for online exams within eLC at no cost to students.
Online Faculty Resources Website
UGA Online has a faculty website filled with resources for designing and teaching online as well as a place to request services and consultations for online teaching and learning.
Thanksgiving Week Dining Hours 
Dining Services' updated schedule for the week of Thanksgiving can be found here.
Dining Commons & Quick Markets now Accept Bulldog Bucks and Paw Points 
UGA's dining commons and Quick Markets now accept Paw Points and Bulldog Bucks in addition to meal plans. Customers needing more Paw Points may purchase additional points online. As a reminder, while unused Paw Points will roll to Spring semester, meal plan blocks do not, so be sure to use any remaining blocks by the end of the semester. Meal plan participants may also take advantage of two new parking spaces in W11 near Creswell Hall and E06 near Busbee Hall that have been designated for 20-minute parking for pick-up from the Quick Market locations on campus.
Hosting a Virtual Office Party? Have Fun with a Seasonal Luncheon & Games! 
Challenge your colleagues to a game of virtual bingo or host a virtual white elephant exchange while enjoying a seasonal luncheon delivered to your office.