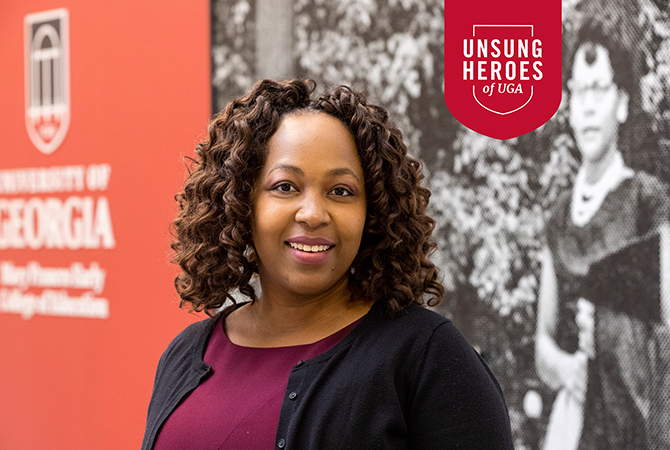 When Taiesha Smith took the job as director at the Mary Frances Early College of Education's Office of Experiential Learning a year and a half ago, she set about modernizing by taking the office digital. She didn't realize that she was creating a perfect platform to deal with the onslaught of changes and cancellations and volume of information that would soon be necessary to get out quickly during a pandemic.  
In regular, non-COVID times, her office is in charge of placing students in real life teaching situations and internships throughout Georgia. When COVID hit, a whole different level of challenges arrived in the form of new policies, changing schedules and school closings. Read more about how Smith and her team navigated these circumstances to ensure students had valuable teaching opportunities.  
COVID Refresher Training Deadline Extended Until this Friday
The deadline for completing the required training module, "COVID-19 Refresher Training for UGA Faculty and Staff" has been extended to Feb. 19. Please note that for anyone who has not completed the training by the initial due date of January 31, will now have a "past due" message in the employee's to-do list within the Professional Education Portal (PEP). It is imperative to have all faculty and staff complete this training by Friday, Feb. 19. 
Surveillance Testing Continues at Legion Field
Free asymptomatic-only testing is available for all UGA community members at Legion Field. You may schedule an appointment or walk in Monday - Friday 9:00 a.m. - 3:30 p.m. The Legion Field site testing schedule will follow the University of Georgia calendar for closure.  Don't forget to bring your UGA ID.
***Participants will receive a 25% off coupon valid at any UGA retail dining location, courtesy of the President's Venture Fund.   
Remember to Mask Up  
Remember, all faculty, staff, students and visitors are required to wear an appropriate face covering while inside campus facilities/buildings where six feet social distancing may not always be possible. Click here to learn more about proper masks and masking behaviors. 
Remember to Check Your Symptoms Before Coming to Campus 

Updated COVID-19 Guidelines for Student Organizations
The COVID-19 (Coronavirus) Guidelines for Student Organizations have recently been updated and can be found here.
Following a review by the leadership of the UGA Preventative Measures Advisory Board (PMAB), major updates/reminders address the following:
If student organizations comply with these guidelines, there is no requirement to have events and/or meetings reviewed by PMAB. Organizations are encouraged, though, to request review of events/meetings if they have further questions. Additional information can be found here.
Reminder: Instructional Break Weds. Feb. 17 
Wednesday, Feb. 17 will be an instructional break for students. Based on recommendations from the Educational Affairs Committee, "No mandatory assignments shall be scheduled for completion during these instructional break days, either for course work or extra-curricular or co-curricular activities. It is strongly recommended that assignments and examinations not be scheduled for the day after the instructional break days." 
Research Matters Live Events Set for Spring 

The Office of Research, in collaboration with other units, offers a series of live Zoom presentations around timely topics for UGA researchers. "Research Matters Live" builds off the monthly Research Matters newsletter dedicated to funding opportunities and other research announcements. In Spring 2021, the series will feature subjects from grant award administration to postdoctoral affairs to ensuring a diverse community representation in human-subjects research. To register for upcoming sessions or to view archived video of past events, please visit the Research Matters Live website. 
Outreach: PS&O and Extension 
Let the Georgia Center Plan and Deliver Your Virtual or Hybrid Meeting 
The UGA Center for Continuing Education can handle your meeting or conference through a virtual or hybrid format if meeting in person is not an option. 
The Georgia Center provides a professionally trained team to work with you during format development and delivery to help you best meet your objectives; a technical team assigned to work with each of your speakers; trained moderators to assist with interactive sessions; and the ability to pre-record content as well as record live sessions. 
Call 706-542-2654 or email the Georgia Center to learn more.