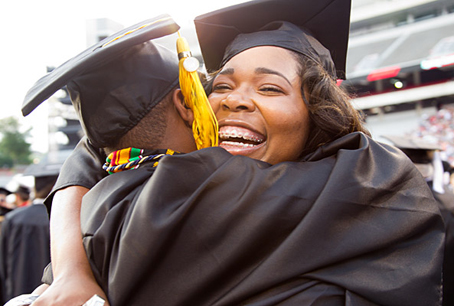 Due to declining state support, we live in an era where private donations are more essential than ever to attracting the best and brightest students, a longstanding objective of the University of Georgia. Certainly many top scholars have chosen to study in Athens, however, private UGA scholarships are scarce, which means many high academic achievers have chosen other universities simply because scholarship dollars were not available for them at UGA.
The good news is there is an answer!
Georgia Opportunity is a merit-based scholarship fund that helps bring the "best and brightest" students to the University of Georgia. Today, many students with superior academic credentials are choosing the institutions they will attend based not just on degree programs, but on the financial packages offered in support of their studies. These academically talented students deserve and expect to receive scholarship in recognition of their achievements. Instead of losing these scholars to other universities, the Georgia Opportunity Scholarship is resulting in more elite students choosing to pursue UGA degrees.
Georgia Opportunity Scholarships are awarded through the admissions process with preference given to students who apply before the early admissions deadline. Scholarships are awarded to incoming freshmen and follow the student through four years at the university.