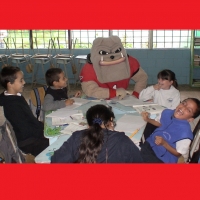 Hairy Dawg (a UGA student whose identity is a closely guarded secret) paid a visit to San Luis School in the mountains of Costa Rica near the UGA campus and gave a fine display of his studious nature, sitting with the kids for a daily lesson.
It was hard to determine who had more fun – Hairy or the children.
One thing for certain; you'll find no more avid Dawg fans anywhere in the entire country of Costa Rica … they all joined together to send Hairy back to his kennel on the UGA Costa Rica campus with a rousing "Goooooooooooooooooooooooooooooooooo, Dawgs sic 'em!"
Hairy was joined on the trip to study in Costa Rica by about 100 students from the University of Georgia and other institutions of higher learning including North Carolina State, North Carolina, East Carolina, Appalchian State, UNC Wilmington, Kennesaw State, Mercer and Texas' Lone Star Community College. There was even one very brave University of Florida student at the campus and a small group from Georgia Tech took time to stop and say hello during a hike in the Monte Verde Cloud Forest.