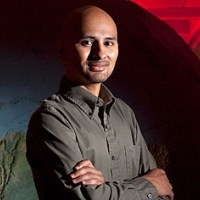 Kausar N. Samli considers himself a global nomad, but at UGA, he is known for much more. A 2010 participant of Singularity University—a prestigous entrepreneurial and research think tank in California, Samli will graduate in December 2012 with a Ph.D. in Biochemistry and Molecular Biology. Certainly, Samli excels as a UGA graduate student.

Expected graduation: December, 2012

Degree objective: Ph.D. in Biochemistry and Molecular Biology

Previous degrees:
M.S. Chemistry – Arizona State University
B.S. Biochemistry – University of Texas at Austin

University highlights, achievements and awards:
I joined the department of biochemistry and molecular biology in the fall of 2009 and am extremely pleased to be a part of the UGA community. I firmly believe that a key responsibility of the UGA community is public service. One way I've been able to serve the community is through my involvement in the Student Academic Honesty Council as a member of the Academic Honesty Panel. UGA's approach to fostering a culture of honesty is one that is educational and encourages the community to consider the rewards of a culture of honesty always yield proud results that speak for themselves.

In the spring of 2010, I was selected to attend Singularity University's 2010 Graduate Studies Program at NASA's Ames Research Center in Mountain View, Calif. The applicant pool consisted of 1,600+ applicants from 85 countries competing for 80 spots. I received a scholarship from SU and sponsorship support from the Graduate School, the Franklin College of Arts and Sciences, the department of biochemistry and molecular biology, the Complex Carbohydrate Research Center, and Glycosensors & Diagnostics LLC. My experiences at SU focused primarily on learning how to innovatively leverage technologies to address global grand challenges. My experiences at SU were recently featured in the Graduate School Magazine. I also was invited to share my experiences with the Graduate School Advancement Board, which specifically focuses on advancing graduate education at UGA. This spring, in collaboration with the Office of the Provost, the Office of the Vice President for Research, and the Graduate School, the UGA-Singularity University "Call to Innovation" Scholarship Competition was launched with the goal of selecting an exceptional UGA student to attend Singularity University's 2011 Graduate Studies Program. This year, UGA graduate student Brinkley Warren won the competition and is currently attending Singularity University.

In the course of my graduate training, I also was selected as a Hypercube Scholar for scholastic excellence in computational chemistry. Recently, I was given the privilege to present my doctoral research at the Graduate Students and Postdocs in Science 3rd Annual Scientific Research Day.

Current employment:
I am a graduate research assistant in the department of biochemistry and molecular biology and the Complex Carbohydrate Research Center.

Hometown:
Having lived in Asia, the Middle East, Europe and North America, I consider myself a global nomad.

I chose to attend UGA because...
…of the highly interdisciplinary doctoral training. I chose to join Professor Robert J. Woods' research group in BMB and CCRC to pursue my Ph.D. The Woods' research group is investigating the complex biomolecular interactions between carbohydrates and proteins. My doctoral research merges computational modeling and protein engineering to develop and characterize biomolecules with novel functionality with the goal of developing new tools for biomarker detection. Furthermore, the high caliber of scientists at BMB and CCRC as well as the confluence of UGA resources and facilities provides a unique training environment to engage in interdisciplinary and cutting edge areas of research. Thus, developing this kind of cross platform expertise is made possible by being at UGA.

The one UGA experience I will always remember will be...
The UGA experience that I will always remember will be the tremendous support I received from UGA to make possible my experiences at SU last summer. In 2010 as a UGA graduate student, I was selected to attend Singularity University's Graduate Studies Program. My experiences at SU were made possible by the extraordinary support I received from my Ph.D. advisor, Professor Woods, and members of the UGA community. Furthermore, the importance of integrating innovation and entrepreneurship as part of my graduate experience at UGA has been significantly re-enforced. UGA is unique in that the university is actively building a culture of innovation as part of the graduate experience.

I am driven and motivated by…
…being a global nomad has allowed be to develop a deeply nuanced perspective of the significant factors behind a community's faith, cultural and philosophical history, perspective and trajectory. Understanding these contributing factors allows me to better appreciate where individuals and communities have come from and where they are headed. Proactively changing the future course of our trajectory and actualizing our potential as individuals and as a society requires that we understand who we are, the challenges we face and where we could/should be headed. I'm driven by my global experiences and motivated by the stories of family, friends and strangers to enact positive social change in our rapidly shrinking world.

After graduation, I plan to...
…remain actively engaged in cutting-edge research and development in an effort to develop and commercialize biotechnologies. Additionally, I am keenly interested in leveraging scientific expertise and global perspective towards science and technology policy development and implementation with the goal of addressing global grand challenges.

If I knew I could not fail, I would...
...endeavor to provide educational opportunities for children, in an effort to create positive generational global change. I am fortunate to have had opportunities to pursue educational goals globally. This has allowed me to develop a global perspective and impacted me deeply. The 2009 United Nations' State of the World's Children report indicates that the Secondary School Attendance Ratio in "Industrialized countries" is approximately 91 percent; in "developing countries" it is approximately 51 percent; and in "least developed countries" it is approximately 29 percent.