March 27, 2015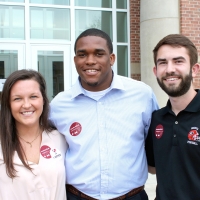 University of Georgia students have elected the Momentum UGA party to the executive branch of the Student Government Association for the 2015-2016 academic year. The party consists of president-elect Johnelle Simpson (center), vice president-elect Houston Gaines (right) and treasurer-elect Darby Miller (left). They will take office on April 14. At that time, Simpson, who suceeds Drew Jacoby as student government president, also becomes and ex officio trustee of the UGA Foundation.
This year, 2,265 students voted in the election.
Simpson is a third-year student from Donalsonville majoring in risk management/insurance and political science. Gaines is a second-year political science and economics major from Athens, and Miller is a second-year business management major from Rogers, Arkansas
The Momentum UGA party's platform goal is to be a liaison and voice for students while bridging the gap between the UGA community, the Athens community and the administration. Platform points for the coming year include the creation of a campus night shuttle service for students, research and support for the development of an inclusive post-secondary education program and strengthening of SGA's role as the voice of the student body to local, state and federal governments.
"We are excited to have this opportunity, and we want to ensure that our work has a positive impact on the student body," Simpson said. "We intend to do our best to keep up the momentum we've had during the campaign throughout the coming year."
Several constitutional amendments also passed, including measures that will modernize the constitution, add legislative committees independent of the executive branch and revise SGA's freshman program initiatives.
An amendment also passed that will remove graduate student senatorial representation from SGA, leaving the Graduate Student Association as the sole voice of graduate and professional students.
The Student Government Association is a registered student organization within UGA Student Affairs.