November 6, 2015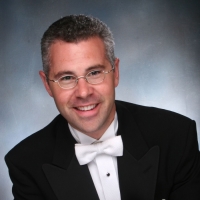 Daniel Bara, director of choral activities and professor in the Hugh Hodgson School of Music at the University of Georgia, has been named the John D. Boyd UGA Foundation Professor in Choral Music.
The appointment was approved by the Board of Regents of the University System of Georgia at its Oct. 15 meeting.
Bara oversees seven university choral ensembles including the UGA Hodgson Singers and the University Chorus, and the graduate choral conducting program in the Hodgson School. He is youth and student activities chairman for the Southern Division Chapter of the American Choral Directors Association.
"Dr. Bara is among the finest choral conductors in the country and, indeed, in the world," said Dale Monson, director of the Hodgson School. "He attracts top talent among aspiring young conductors and singers to UGA to study with him, and his concerts are absolutely brilliant, among the highlights of our season. We're so fortunate to have him on our campus."
Bara's university choirs have performed by juried invitation for state, regional and national conventions of the American Choral Directors Association, the National Association for Music Education and the Intercollegiate Men's Choruses National Seminar. In spring 2014, the UGA Hodgson Singers won the Grand Prix at the International Choral Competition Ave Verum in Baden, Austria, and performed at the ACDA Southern Division Convention in Jacksonville, Florida.
"In just a few years at UGA, Dr. Bara has created a culture of excellence within the choral department by inspiring his students to perform at the highest possible level," said Stephanie Bacastow, a senior from Cumming who is a third-year member and president of the Hodgson Singers. "His vast knowledge of repertoire and historical context along with his expressive conducting gesture foster a professional atmosphere in every rehearsal.
"Most importantly, he takes a personal interest in the goals of each student and never fails to be a constant source of encouragement and positivity. I feel extremely grateful to have been able to study under Dr. Bara during my collegiate career."
Bara's former Master of Music and Doctor of Musical Arts conducting students now hold conducting appointments in schools and churches throughout the country, as well as noteworthy collegiate programs including Susquehanna University, New England Conservatory, Miami University of Ohio, University of Idaho and William Jewell College.
In 2001, Bara was a winner of both the Walter Hagen Conducting Prize given at the Eastman School of Music and the ACDA National Student Conducting Competition (Graduate Division) awarded at the national convention in San Antonio, Texas.
"I am honored and humbled by this appointment and feel it underscores the continued support that the arts and music enjoy from the university's alumni and administration," Bara said. "At a time when UGA is regularly lauded in the press for its academic competitiveness, research initiatives and athletic accomplishments, it is wonderful to be part of a school that also supports and celebrates the arts and arts education as a continuing and important part of its identity and mission."
Prior to joining the UGA faculty in 2009, Bara was director of choral activities at East Carolina University, where he received the UNC Board of Governors Distinguished Professor for Teaching Award and the Robert L. Jones Award for Outstanding Teaching. He has released two internationally distributed choral recordings, "Greater Love" (2007) and "Eternal Light" (2010), with Gothic Records.
Bara holds a Doctor of Musical Arts in conducting from the Eastman School of Music and organ and conducting degrees from the University of Michigan, and is a graduate of Interlochen Arts Academy.
The John D. Boyd UGA Foundation Professorship honors the late John D. Boyd, who was a professor in the department of English at UGA. Boyd was an accomplished pianist and longtime member of the Athens Master Chorale.