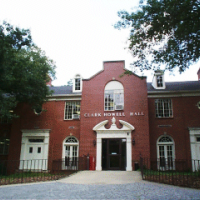 There are many stories of UGA donors that are inspirational and demonstrate the true goodness of people and that is certainly true when one recounts the story of Nancy Wech. Her two children, Scott Kelly and Lauren Kelly both graduated from the University of Georgia and both achieved academic success despite suffering from Cystic Fibrosis.
Scott Kelly today has a family and is a partner in an Augusta law firm and, with medical treatment, has kept his condition in check.
Sadly, Lauren's condition was much more severe and claimed her life shortly before graduation in 1992. She had completed her coursework and was awarded a degree posthumously.
Nancy fights back tears when she talks about how the University of Georgia made accommodations to make sure Lauren had every opportunity to fulfill her degree requirements. She talks about how important it was to Lauren and how grateful her daughter was to have been able to study at the University of Georgia.
"They even moved an entire class from one building that didn't have an elevator to another that did so she could complete her studies, and they did things like that all the time."
Nancy is particularly grateful for the assistance of UGA's Disability Resource Center (housed in Clark Howell Hall pictured above) which leads an effort to assure that individuals with disabilities have the same opportunities all other students have to learn. As such, Nancy has set up an endowment to help fund the needs of students with chronic ailments – and that includes more than just tuition and books. Funds from the endowment help students with medical care and prescriptions.
"Because the Disability Resources Center was there for my children, I want to help make sure it is there for others," she said. "It's a way of honoring the memory of my daughter and giving a lasting gift to my son and his family."
Margaret Totty, assistant director of the Disability Resource Center says, "Nancy has been great to us … I can't say enough about her and what she has done to help us help students that really need and deserve assistance."
Nancy adds that she is glad she can place her funds with the UGA Foundation because it is an organization that she can trust to maximize the benefit every dollar provides
"The success with which the foundation invests its assets, makes it very encouraging to entrust funds to their management," she said. "The stewardship publication they send me every year shows how well they do investing the funds in my endowment. It is much better than I could do on my own and, for me, that's a feel-good thing."