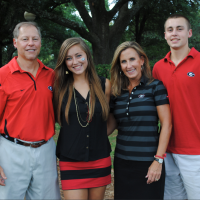 Jeff Rothenberger came to the University of Georgia from Chamblee High School to study accounting in the Terry College of Business from which he earned his BBA in 1981. It was during his time on campus that a lifelong commitment to the university blossomed.
"It was a wonderful time to be in Athens," he said. "I got a great education, which established a foundation for my professional life and I got to live out the first part of my senior year watching the football team win a national championship."
Jeff went on to earn a master's degree from the University of Houston while working in the petroleum industry. He hit it big in the Lone Star State, finding professional success and meeting his wife Stacy, a native of Lubbock and a graduate of Texas Tech.
"She may have graduated from Texas Tech, but she's a totally converted Bulldog," Jeff says proudly.
As the photo above shows, the entire family now wears the red and black. Son Travis graduated in 2014 with a finance degree from the Terry College and daughter Alyse is presently enrolled at UGA.
The Rothenbergers are regulars at UGA sporting events and Jeff confesses that his first donations to the university were more for his own benefit.
"I wanted football tickets," he said. "But the more I came to know the administrators, the development team and the hardworking staff members that have a real passion for the university, the more I realized I wanted to be part of it." The Rothenbergers have made generous gifts to the Terry College and the Special Collections Libraries, and a room in the Miller Learning Center bears their name in honor of their largesse.