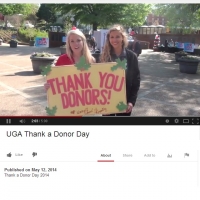 The University of Georgia Office of Donor Relations and Stewardship in partnership with the UGA Student Alumni Council hosted the third annual "Thank a Donor Day" throughout campus on April 17... and participation was evident from many schools, units and organizations. To view a video of the day's activities,
click here
.
UGA's fraternities and sororities were enthusiastic supporters, creating and hanging banners that thanked donors for supporting the state's flagship institution of higher education.
Tate Plaza served as headquarters for Thank a Donor Day activities. At Tate, students wrote personalized notes expressing their gratitude, signed a large thank you card and created video and photo messages of gratitude to be shared with donors. The photo above left featuring two students with Hairy Dawg was an oft-repeated scene throughout the day's festivities. UGA student-celebrities made appearances, including "Big Man on Campus" Rance Nix, Miss UGA Adeline Kenerly, the UGA Ballroom Performance Group and many others.
"UGA's first donation was 633 acres of land from John Milledge that later became the site of our great university," said Tony Stringer, director of UGA's Donor Relations and Stewardship. "More than 200 years later, UGA donors continue to support our growing campus, allowing our students to thrive. Saying 'thanks' validates the importance of these gifts," he said.
The purpose of Thank a Donor Day is to educate the UGA community about the importance of private giving and give students the opportunity to thank donors for their generosity and encourage a culture of philanthropy at UGA.