(Digitally) Welcoming 6,900+ Alumni to the Family
On Friday, May 10, I geared up with the essentials: (1) a fully-charged smartphone, (2) battery packs for re-charging my device throughout the day and (3) an all-black ensemble to blend in with the crowd. Where was I headed? To commencement, of course!
In the months leading up to graduation, the DARCOMM team was faced with a growing challenge: so many new alumni and so much we want for them to do (attend events! update their info! fill out career outcomes survey! sign up for chapter listserv! give!). We also wanted their first message from UGA as alumni to be a warm welcome to the UGA Alumni Family. How should we approach these 6,900+* graduating students? 
Our solution? Creatively and proactively utilizing our digital media channels. With the help of digital advertising, an Instagram collage, a larger-than-life QR code (I'll explain more later …) and a rapid-fire Q&A with commencement speaker Deborah Roberts (ABJ '82), we were able to reach the Class of 2019 right where they are—their seats on the field of Sanford Stadium. Here's how:  
Reaching Gen Z the Right Way … On Their Phones
Let's start with digital advertising. During commencement and the weeks following, we ran a series of digital advertisements on our Facebook, Instagram and Instagram Story targeted at all May 2019 graduates. These ads all drove traffic to the 'Update Info' form and featuring quippy slogans such as 'Ready to be invited to UGA alumni events?' and 'Updating your info is quick and easy.' All of these ads featured congratulatory messaging matched with high-energy. These ads will run until June 30, but as of now, take a look at our top performing ad.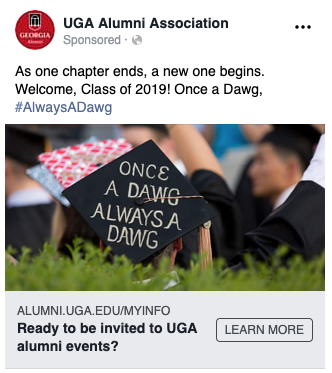 In addition to the update information campaign, we are also running a campaign focused on gaining page likes on Facebook. The top-performing ad features the same imagery as the ad above, but as you can see, allows individuals to follow the Alumni Association on Facebook with one simple click. These ads will also conclude on June 30 and have already resulted in close to 200 page likes since June 3.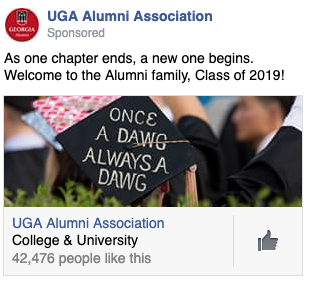 Do it for the Gram
Our 'Welcome to the Family' Instagram collage proves that teamwork really does makes the dream work. Finding inspiration from butter.atl, we created an immersive experience (across several Instagram tiles) highlighting our alumni chapters, affinity groups, upcoming events, social media platforms and services offered by the UGA Career Center to alumni. All in all, this collage spanned 12 Instagram tiles with some slides having even more content (think photos, videos, contests, gifs, etc.) behind them. Dive further into the collage on our Instagram (and give us a follow if you haven't already #shamelessplug)! Also, be sure to check out our IG Story commencement coverage.
P.S. – If you see Amanda Qubty or Edwin Hammond in the Milledge Center hallway, be sure to give them a high five for their work on this effort.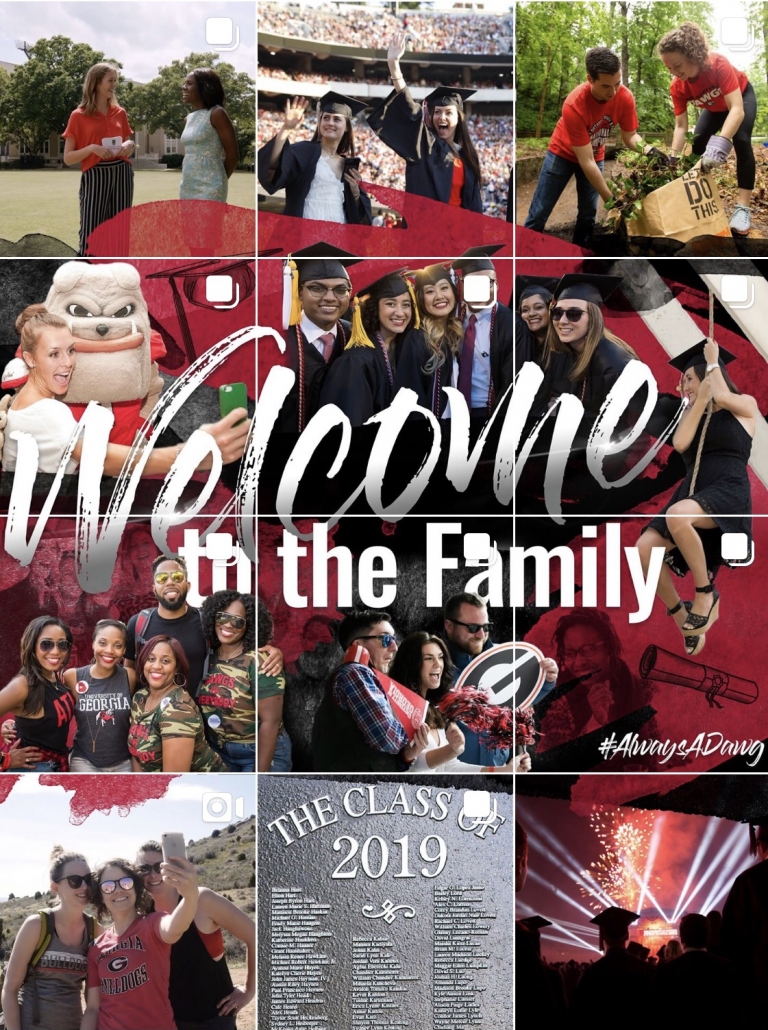 Aren't QR Codes Dead?
We think not! QR codes (short for quick response) are a type of bar code used to provide easy access to information through your smartphone. Nowadays, scanning a QR code is easier than ever—all you have to do is hold up your cell phone camera. During both the graduate and undergraduate commencement ceremonies, we were given a unique opportunity to have a graphic displayed on the jumbotron. Knowing we wanted to drive traffic to our Instagram account for new grads to see our collage, we figured displaying a giant QR code on Sanford Stadium's 100 by 52-foot scoreboard would be a larger-than-life solution. To date, we've gained over 400 followers on Instagram and close to 200 followers on Facebook from commencement-related organic social content—and this number continues to grow.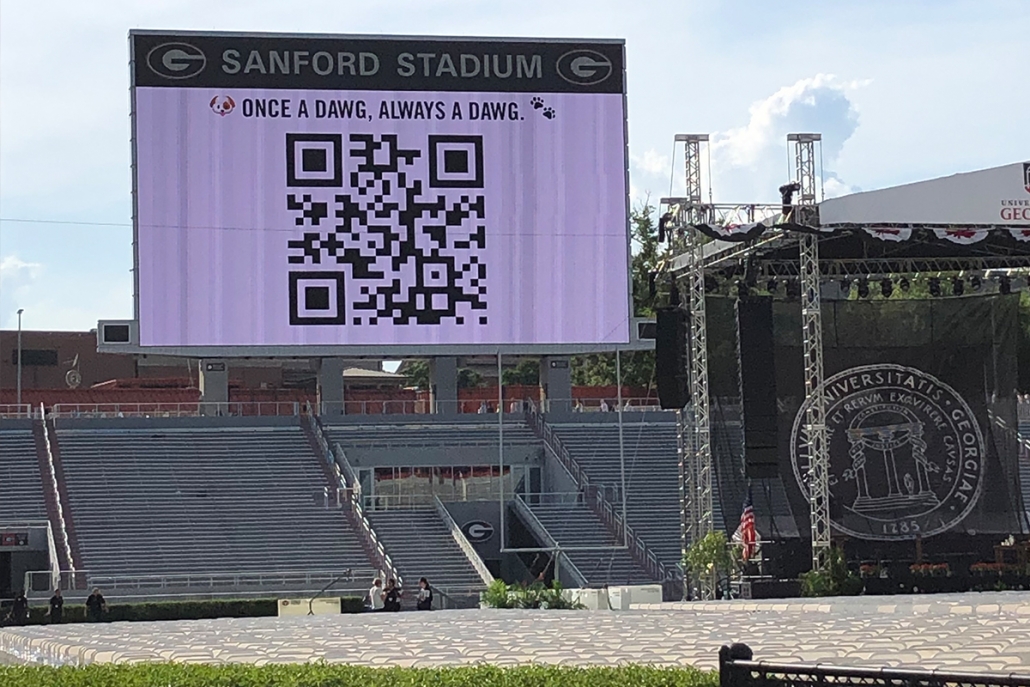 My Big Break
No, really. I had the opportunity to ask Deborah Roberts (ABJ '82) 30 rapid-fire questions prior to her delivery of the Commencement address. I was star-struck. Stealing some inspiration from Atlanta United's Box to Box series, Deborah and I walked the length of the Memorial Hall lawn where she answered the questions we've been dying to know. View the full version (6 minutes) on our YouTube page and the shorter version (3 minutes) on our Instagram account. You're sure to fall in love with this impressive alumna—I know I did!
(Catch me signing autographs outside the break room next week. 💁)
By the end of commencement, I had walked close to 10,000 steps, captured hundreds of photos and videos, and my cell phone battery was a meager 3% … But, as the fireworks illuminated the sky behind the West End Zone to celebrate the Class of 2019, I thought to myself just how great it is to serve this institution every day with so many individuals who value fun and collaborative digital efforts such as these!
---
* Note that this exact number is still being finalized.
https://dar.uga.edu\/wp-content/uploads/Squad-resize.jpg
800
1200
Danielle Bezila
https://dar.uga.edu/wp-content/uploads/UGADAR-logo-horizontal2.png
Danielle Bezila
2019-06-06 11:19:23
2019-06-06 11:32:39
(Digitally) Welcoming 6,900+ Alumni to the Family