SPIA's First Hybrid Fundraiser: 2021 Georgia Legislative Outlook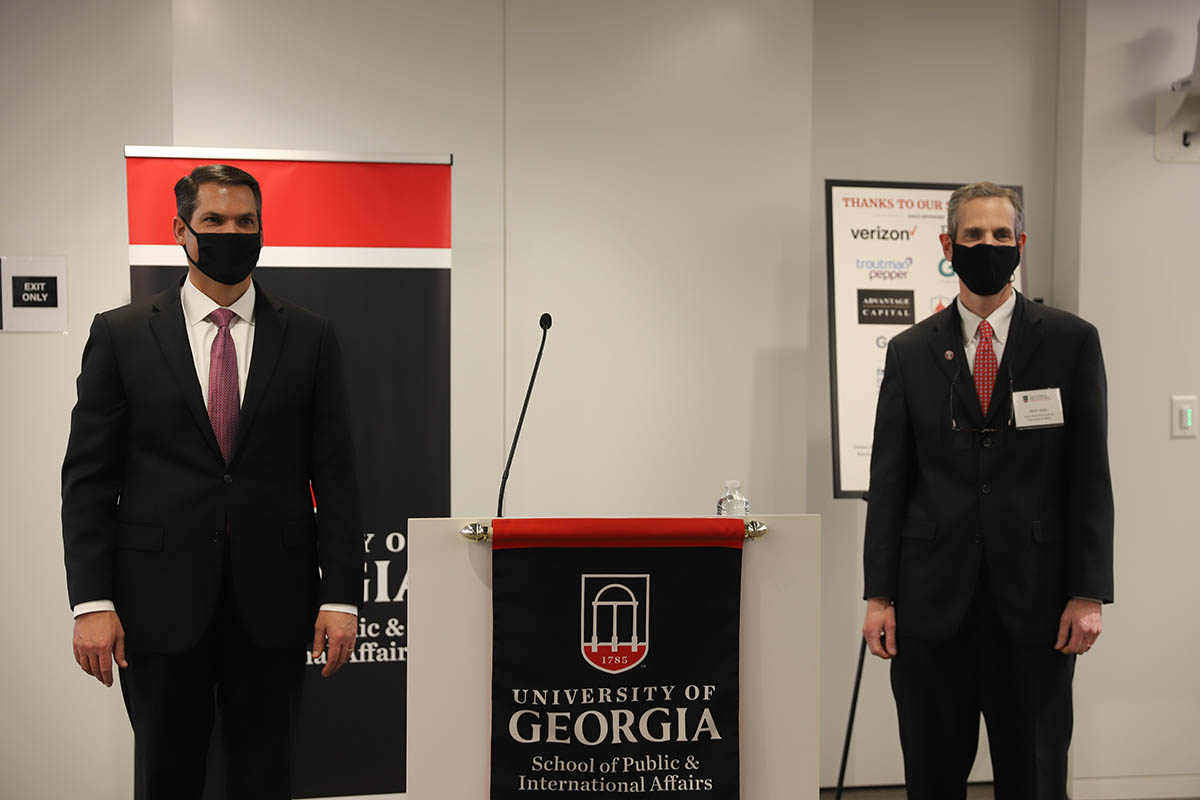 On Tuesday, February 16th, the University of Georgia's School of Public and International Affairs held their ninth annual Georgia Legislative Outlook (GLO). GLO is an annual event hosted by the SPIA Alumni Board of Directors. The event seeks to facilitate discussion and offer the opportunity for questions and answers regarding the current legislative session. Funds raised by the event support the initiatives of the Alumni Board, which include undergraduate study abroad scholarships, support for students in the Master of Public Administration program and additional funding priorities identified annually by the dean.
Lieutenant Governor of Georgia Geoff Duncan was the featured speaker in the School's first-ever "hybrid" (both virtual and limited in-person attendance) event. Gold Sponsor, Troutman Pepper, hosted the event in their expansive meeting space, allowing eight sponsors to attend in person, with over six feet between seats and masks required. Despite the financial difficulties many individuals and companies have experienced over the past year, the event raised $20,000 and had over 50 participants tune-in online. In-person attendees included a particularly special guest, current SPIA student Parker Duncan, the Lieutenant Governor's son. Looks like despite his father's Georgia Tech affiliations, we scored a few points for UGA with Duncan's participation in this meaningful event. Thanks to the Lieutenant Governor for giving up his time to provide a glimpse into the goals for this legislative session and offer interesting solutions for some major issues facing our state!
LESSONS LEARNED
Since this was SPIA's first hybrid event, there are a few lessons we learned through the process. One of the biggest challenges was communicating the requirements of the event in advance and ensuring it was clear that only sponsors of a certain level could attend in person because of COVID-19. In addition to the multiple bolded sentences in the email, we included a note on the registration page as well as noted "(via Zoom)" next to each registration option. Last year, over 200 registrants wanted to come to GLO and we even had people show up without registering. Our biggest concern for this year's event was unannounced attendees due to miscommunication, but thanks to the hard work of the AskIT team, we didn't have any difficult conversations.
COVID-19 precautions meant a lot more communication in person as well—we utilized the brand.uga.edu website downloads for COVID signage the day of the event. Unfortunately, in order to make it safe, we eliminated all food and beverage, which made the event simpler (while less fun). The biggest addition was pre-assigned seating with complimentary swag in specific seats. We wanted to make sure everyone was honored yet felt like they had their own space, so ensuring each attendee knew where to go was of utmost importance. Thankfully, Troutman Pepper did an incredible job of making sure there were plenty of hand sanitizer and wipes as well as enough sanitized pens to accommodate everyone filling out their contact-tracing forms.
The logistics of balancing a virtual audience Q&A with the live in-person speaker and audience was complex, but we were able to have a seamless experience thanks to the patience of the A/V team at Troutman Pepper and the cooperation of Dean Auer. One recommendation I would share is to put the moderator off screen so while he/she is scanning the written Q&A, the audience isn't getting an up close and personal view of a confused face. The off-screen arrangement also allowed me to stealthily approach the dean when there were some audio issues, with only the 8 individuals in the room able to see me sneak to his side to give him feedback. Overall, the event went well, without major surprises, and we raised $20,000 for students and programs at SPIA—plus, we won over a Tech graduate. What more could you ask for?!
https://dar.uga.edu/wp-content/uploads/Feature-Image-1.jpg
800
1200
Emily Munnell
https://dar.uga.edu/wp-content/uploads/UGADAR-logo-horizontal2.png
Emily Munnell
2021-03-08 09:23:13
2021-03-08 09:23:13
SPIA's First Hybrid Fundraiser: 2021 Georgia Legislative Outlook