The Unsung Hero Experience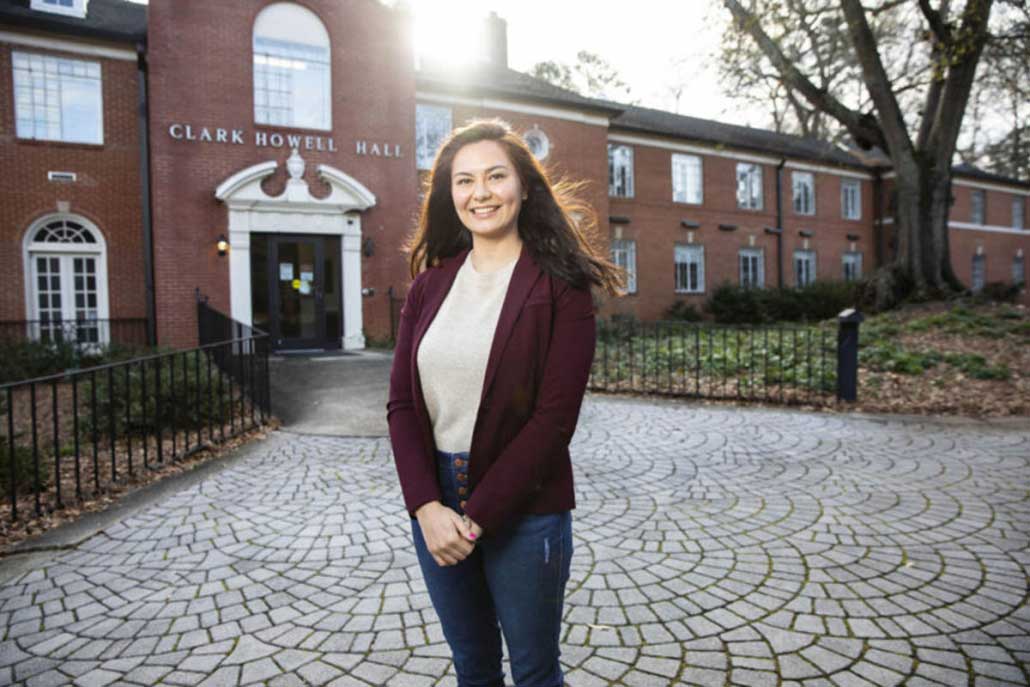 It was completely unexpected.
…
I've noticed and read many of the Unsung Hero features in the Archnews COVID-19 update newsletters, and admired the staff featured, sharing how they mustered forward throughout the pandemic to ensure their service to students, their team and the UGA community would not halt despite the uncertain and completely novel circumstances. Like many of those featured have remarked, our team learned to keep moving forward and do the best we could amidst the global pandemic.
That's why I was completely taken aback when I received an email from Chad Osburn, a photographer with UGA Marketing and Communications (MARCOMM). He asked to schedule a time for a photo shoot for UGA Today's Unsung Hero profile, and amidst the feeling of being pleasantly surprised, I thought, 'What did I do to deserve this?' I had an inclination that my supervisor, Jeremy Daniel, director of the UGA Mentor Program, must have had something to do with it.
After replying to the photographer to set up a time for the photo shoot, I forwarded the email over to Jeremy with a quick and simple message: "Did you have something to do with this?" Of course, I received back an ambiguous answer, but that ambiguity made the answer clear enough.
A week after receiving the initial email to schedule a photo shoot for the feature, I stood outside of Clark Howell Hall in the brisk winter air to get my picture taken as an unsung hero. A couple of days later, I received an email from Heather Skyler, managing editor for MARCOMM, and Jill Hamilton who would interview me for the story. They were on a tight deadline, so we scheduled our interview for the next day. During our phone interview, Jill asked me a series of questions that ranged from what I do at my job, to how things have changed since COVID and what challenges we've faced. We had a wonderful conversation, but what I appreciated most about it was the time it gave me to reflect on all that our team, office, and division have done to move forward and continuously achieve amazing results in the face of adversity.
In all, it was a fun, exciting and fast-paced experience. And, though I was the one interviewed and photographed this time, I know I am only one of the many unsung heroes that make up our division. We are stronger together, and together we can do heroic things. (Heros by David Bowie begins to play)
;-)
https://dar.uga.edu/wp-content/uploads/Destiny_Loyd2-1200-x-800-1030x687-1.jpg
687
1030
Emily Munnell
https://dar.uga.edu/wp-content/uploads/UGADAR-logo-horizontal2.png
Emily Munnell
2021-03-06 20:07:18
2021-03-12 13:25:53
The Unsung Hero Experience