April '23 DAR Star: Lynnsey Lafayette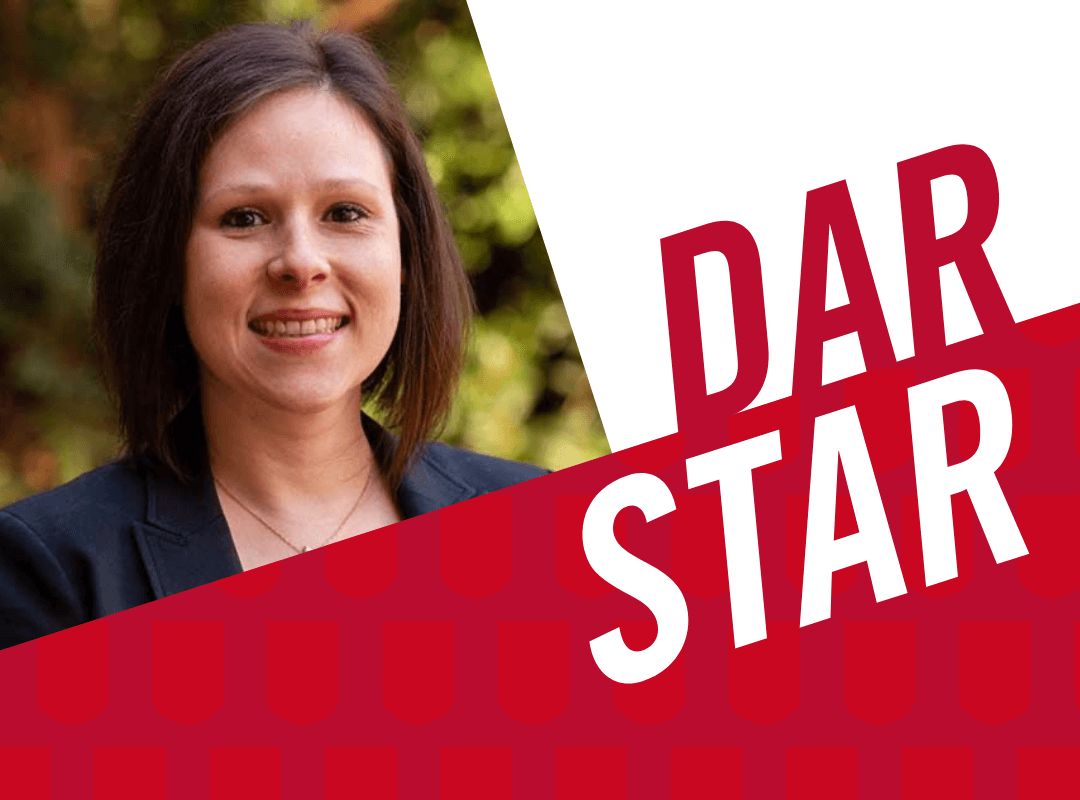 We work with absolutely incredible people—and we all have varied interests and experiences, which adds to the unique makeup of the University of Georgia. We'll be regularly spotlighting a few rock stars from around the division so that even if you don't cross paths with them in the break room or Zoom with them on a weekly basis, you can get to know colleagues who can enhance your work life and productivity.
Without further ado, please enjoy our Q&A with Lynnsey Lafayette …
Name: Lynnsey Lafayette
Title: Development and Alumni Relations Coordinator, The College of Public Health (CPH)
I am responsible for building and coordinating connections with donors, alumni and friends to promote the College of Public Health and its mission.
What might people not know about your job? I love my job! There are some amazing faculty that I get to work with from Gerontology and Disaster Management and so many other departments around the college. The research coming out of CPH is incredible and covers so many fields! And to top it all off, I get to work with incredible alumni and helping to promote the mission of CPH, advancing the health of all. It's an honor to work with this college.
Where can we find you?
Online:

ude.agu@falgl

On Campus: Health Sciences Campus, Rhodes Hall, Room 221
At home: Athens
Time in DAR: 5 1/2 Years
Why do you love working here? My colleagues are the best! I love the people I work with, but I love my alumni too. We have awesome people at CPH and DAR, and it's a true joy to have a job where I get to meet and work with more and more wonderful people.
No. 1 tip for someone joining DAR: Make friends! The people here are great and will help you with whatever you need, and if they can't, they'll point you in the right direction.
What have you been most proud of working on? The 2005 Society is a giving program I developed at the college honoring the year the college was founded. This giving society supports our students with the most need for funding for things like housing and tuition. Students should be able to focus on their studies and not their finances. I love being able to be a part of that, and the 2005 Society has made an impact on so many students' lives.
Where did you grow up? Hilton Head, South Carolina
Tell us about your family… Most of my family is originally from Atlanta, but my mom recently moved to Madison and loves it! I have a sweet gray tabby kitty named Tipitina and recently adopted two black kitties named Cash and Sue who are slowly, but surely, getting acclimated to their new home.
On a typical Saturday evening, you can find me… Either at a social event associated with one of the boards I'm a member of in Athens, or at home cross-stitching and watching Star Trek with a glass of wine.
Where do you like to grab lunch in Athens? LOVE HiLo. Their chili is the best! Veggie or beef – it's all delicious. Don't even get me started on the fried oyster mushrooms…amazing.
Outside of work, I'm passionate about… Social justice and beer. I've always had a deep passion for helping those in need (hence my job in philanthropy), so I'm on a few local boards supporting causes including queer rights, HIV/AIDS, and Epilepsy, but I also love checking out new breweries and beer. We're lucky to have so many great options in Athens!
Favorite podcast? I'm currently into the Crime Junkie podcast. The episodes are a great length for a drive to Atlanta. You're Wrong About is a great one too.
Lately, I've been watching… Picard. I got into Star Trek during the pandemic and the newest season of Picard is the best yet!
A song that really pumps me up is… We Are the Champions by Queen – especially now. GO DAWGS!!!
Something you might not know about me is… I love crafts! I recently got into sewing and have always loved cross-stitching. It's a great gift and very cathartic for me.
My dream vacation (cost and time aside) would be to visit… I'd love to go somewhere like Easter Island to see the mind-boggling monuments and learn more about their mystery. Egypt, for that reason, would be amazing too.
We hope you learned something new about Lynnsey —we are lucky to have her on our DAR team! Feel free to reach out to her for a tour around the Health Sciences campus.
https://dar.uga.edu/wp-content/uploads/LynnseyLafettee_1200x800px-2023-DarStar-V1.png
800
1080
Lily
https://dar.uga.edu/wp-content/uploads/UGADAR-logo-horizontal2.png
Lily
2023-04-12 15:12:33
2023-04-13 11:39:34
April '23 DAR Star: Lynnsey Lafayette