January '23 DAR Star: Emily Ann Munnell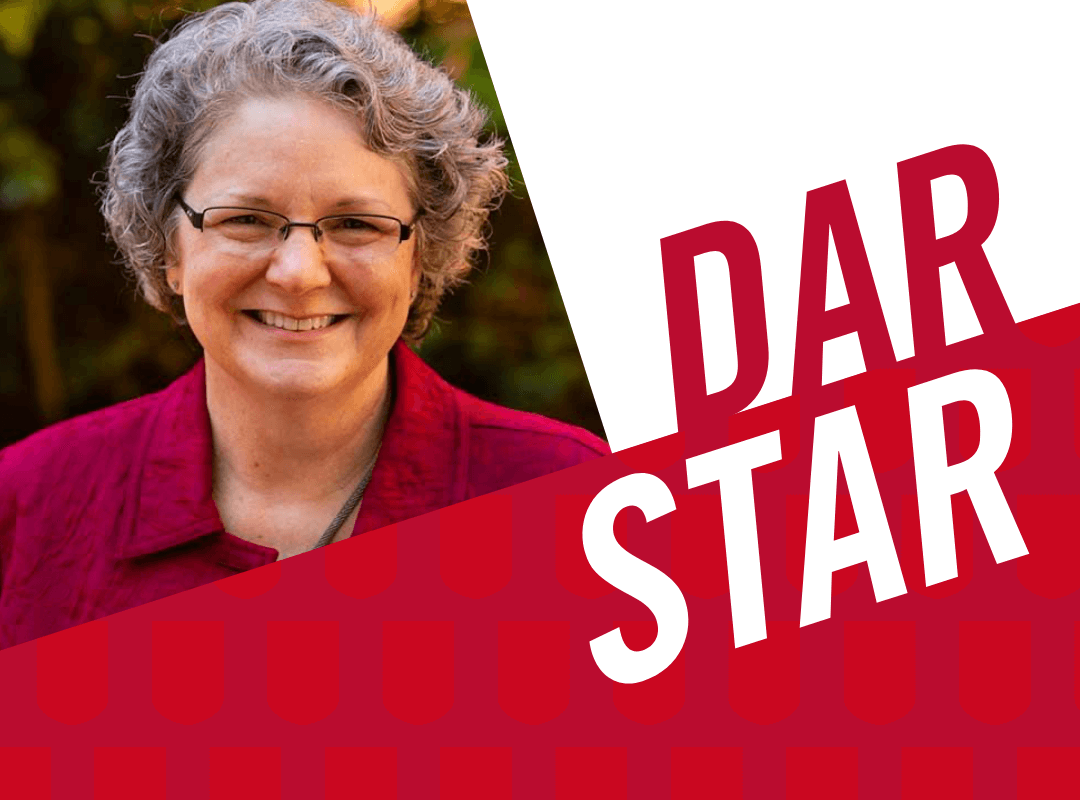 We work with absolutely incredible people—and we all have varied interests and experiences, which adds to the unique makeup of the University of Georgia. We'll be regularly spotlighting a few rock stars from around the division so that even if you don't cross paths with them in the break room or Zoom with them on a weekly basis, you can get to know colleagues who can enhance your work life and productivity.
Without further ado, please enjoy our Q&A with Emily Ann Munnell …
Name: Emily Ann Munnell
Title: Communications Coordinator, Development and Alumni Relations Communications
I serve as a liaison between DARCOMM and the units that I serve (GEP and the Career Center). DARCOMM helps units effectively communicate with their audience(s). Within the DARCOMM team, my role is as a writer and a project manager, helping guide projects to competition. I work part time, three days a week.
What might people not know about your job? Three things! (1) How important it is to plan ahead and get the entire team on board before beginning a project with DARCOMM. (2) It breaks our heart to have to say no to a request. We work hard to find, if not a way to say yes, a compromise before we ever say no. (3) While DARCOMM does, indeed, have more fun than any other DAR unit, we work really hard to help our clients succeed.
Where can we find you?
Time in DAR: 3 years
Why do you love working here? I bleed red and black. I grew up here in Athens, went to UGA and couldn't be happier to be back in town and working for the school I love!
No. 1 tip for someone joining DAR: Learn all the acronyms. (I'm still trying…)
What have you been most proud of working on? For GEP, it's the impact mailers. The stories are the best. For the Career Center, it's writing the mentorship stories. I guess I'm just a sucker for inspirational stories!
Where did you grow up? The Classic City – Athens, GA! Home of the University of Georgia!! Go Dawgs!
Where do you like to grab lunch in Athens? Lindsey's Farm to Table Culinary Market
Outside of work, I'm passionate about… Thrifting, antiquing, junking and treasure hunting. I have an Etsy shop where I sell my finds.
Favorite book? My favorite book is Pride and Prejudice.
A song that really pumps me up is… "Get Up Offa That Thing" by James Brown
Something you might not know about me is… I was the alternate UGA bulldog mascot for basketball while I was at UGA. It was before we had Hairy Dawg.
My dream vacation (cost and time aside) would be to visit… Pearl Harbor in Hawaii – my granddad was stationed there as a doctor in the Navy, and his family (including my mother) were living there when it was bombed. They all made it out alive, but not unchanged. It's a sacred place.
We hope you learned something new about Emily —we are lucky to have her on our DAR team! Feel free to reach out to her for all your communicative needs!
https://dar.uga.edu/wp-content/uploads/EmilyMunnell_1200x800px-2023-DarStar-V1.png
800
1080
Lily
https://dar.uga.edu/wp-content/uploads/UGADAR-logo-horizontal2.png
Lily
2023-01-11 15:10:23
2023-01-11 15:10:23
January '23 DAR Star: Emily Ann Munnell