July '23 DAR Star: Shirley Allen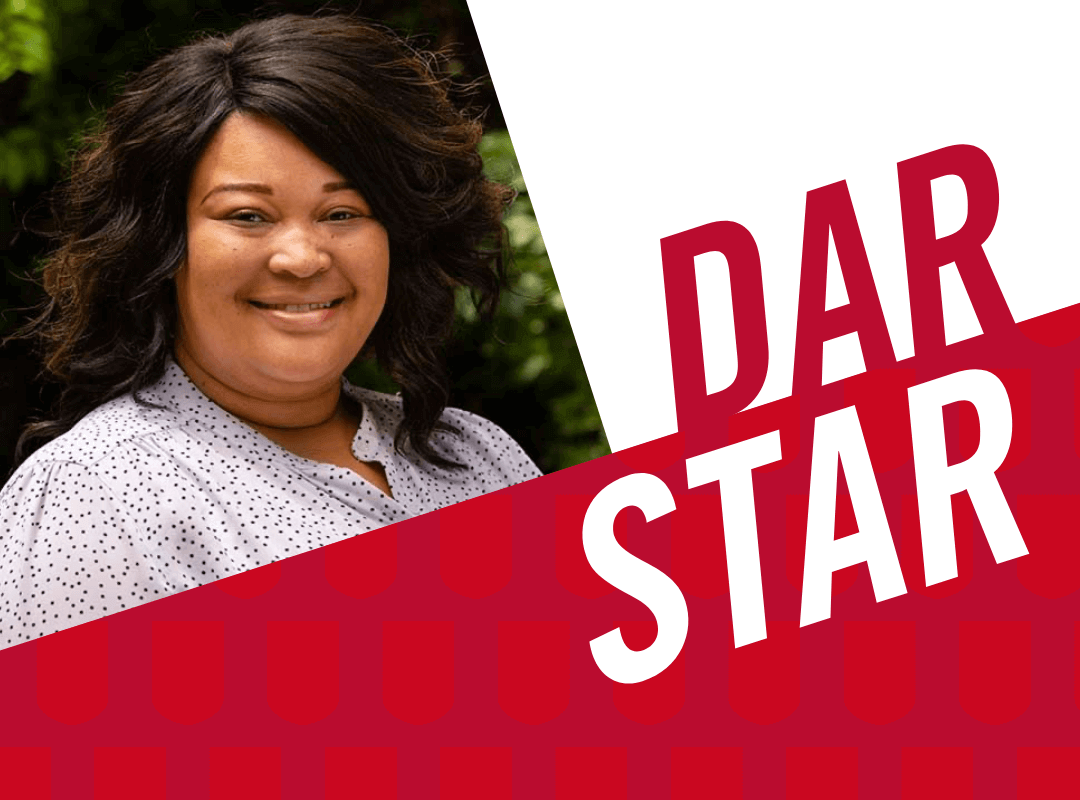 We work with absolutely incredible people—and we all have varied interests and experiences, which adds to the unique makeup of the University of Georgia. We'll be regularly spotlighting a few rock stars from around the division so that even if you don't cross paths with them in the break room or Zoom with them on a weekly basis, you can get to know colleagues who can enhance your work life and productivity.
Without further ado, please enjoy our Q&A with Shirley Allen …
Name: Shirley Allen
Title: Associate Director of Development
I have the pleasure of raising charitable support for the Office of the Vice President for Public Service and Outreach. I'm committed to finding, soliciting and stewarding donors who care about making the state of Georgia better. PSO does this by harnessing the University's resources (its research, faculty, and students) to empower individuals and communities. With eight distinct units, every day is different but I love that I get to think broadly about how my alma mater benefits all Georgians, strengthening even individuals who have never stepped foot on campus.
What might people not know about your job? PSO may not have 'alumni' in the traditional sense, but there's pretty much something for everyone. From the Botanical Garden to the Small Business Development Center to the Office of Service learning (and more!), if you're talking to a donor who wants to make an impact, there's probably a program at PSO that they'd like to know about. Success looks different every day in my role–sometimes it's closing a gift, other times it's establishing a process that is new to our development shop. Either way, it's fun "leaving my mark" on the University. I'm still learning and would love to learn from YOU–please share your best practices and favorite tips and tricks!
Where can we find you?
Online:

ude.agu@nellahs

On Campus: Cobb House
At Home: Hull, Georgia
Time in DAR: Nearly four years
Where did you grow up: Browns Mills, New Jersey
What is your favorite reason for working for UGA/DAR? Working for my alma mater is a dream come true and I'm so proud of my colleagues who are making an indelible mark on the lives of others. I also love working with DAR because I get a bird's eye view of the incredible programs, students and faculty that make UGA great.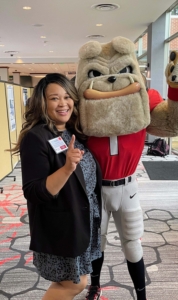 What is your favorite spot in Athens to grab lunch? The Cafe on Lumpkin
Tell us about your family … I've been married to my high school sweetheart, Nathan, for nearly 14 years and we have a 15 month old son, Nathaniel. Between him and our labrador, Pax, it's pretty much chaos all the time!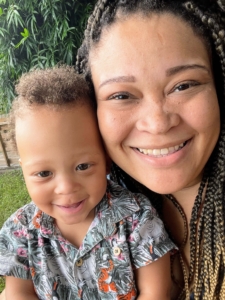 On a typical Saturday evening, you can find me … Listening to music with friends or curled up with a book–I'm a voracious reader!
No. 1 tip for someone just joining DAR: Go to the quarterly meetings in person if you can, bonus points if you sit with someone new! The people we work with are fascinating and really good at what they do.
Outside of work, I'm passionate about … Literacy (support your local library!), resources for the disadvantaged and GOOD FOOD!
Favorite book or podcast: Favorite book of all time is Anne of Green Gables. And the American Scandal podcast is always on my rotation.
Lately, I've been watching …The Closer and Korean dramas
A song that really pumps me up is … Two Princes by the Spin Doctors
Something you might not know about me is … I'm a big country music fan and I used to collect Snapple caps.
My dream vacation (cost and time aside) is to visit … The Maldives
We hope you learned something new about Shirley. We are lucky to have her on our DAR team! Feel free to reach out to her if you have questions about development, or if you'd like to talk about books and literacy.
https://dar.uga.edu/wp-content/uploads/ShirleyAllen_1200x800px-2023-DarStar-V1.png
800
1080
Lindsay Tuck Morris
https://dar.uga.edu/wp-content/uploads/UGADAR-logo-horizontal2.png
Lindsay Tuck Morris
2023-07-05 12:57:25
2023-07-06 09:56:34
July '23 DAR Star: Shirley Allen