May '23 DAR Star: Mary Alston Killen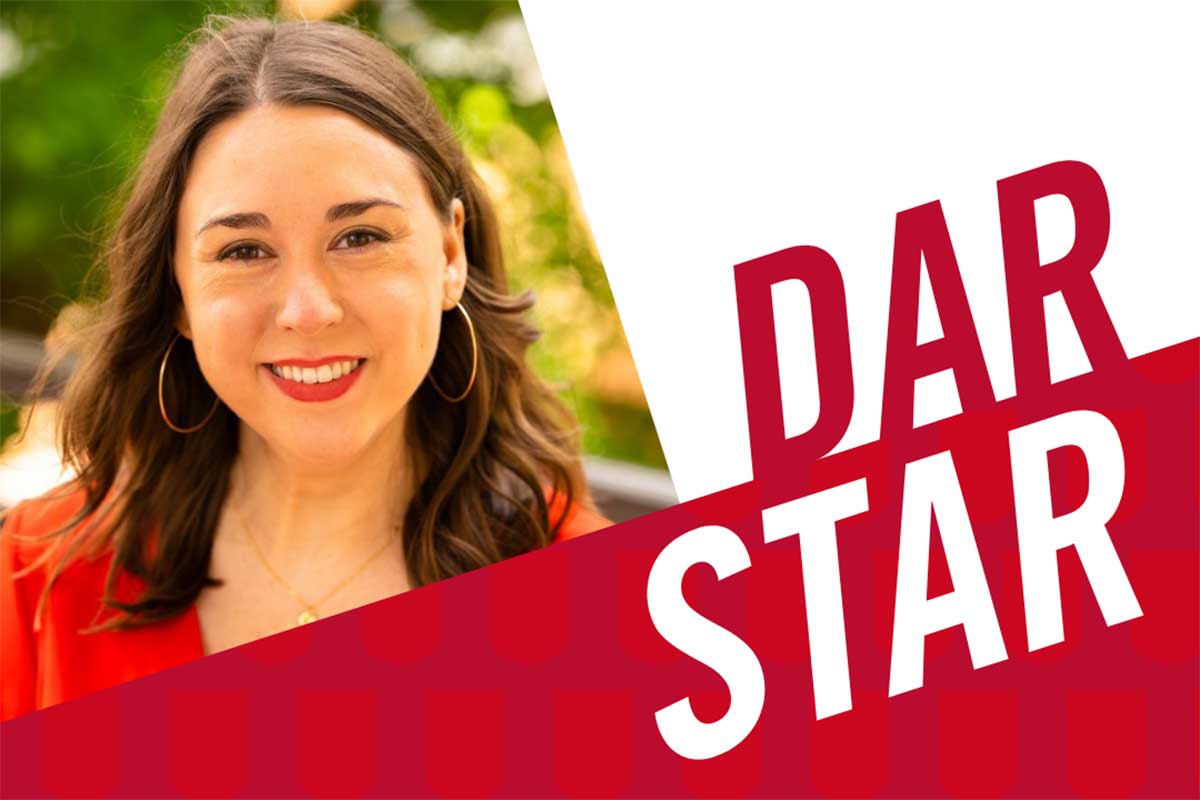 We work with absolutely incredible people—and we all have varied interests and experiences, which adds to the unique makeup of the University of Georgia. We'll be regularly spotlighting a few rock stars from around the division so that even if you don't cross paths with them in the break room or Zoom with them on a weekly basis, you can get to know colleagues who can enhance your work life and productivity.
Without further ado, please enjoy our Q&A with Mary Alston Killen …
Name: Mary Alston Killen
Title: Director of Donor Relations and Stewardship, Franklin College of Arts and Sciences
I manage relationships and provide high level stewardship for Franklin College's top donors, including high-touch donor outreach and implementation of special events for significant donors to the college. I also manage tactical stewardship practices for the college, including writing acknowledgements, ordering merchandise, and working with the central development office on stewardship reporting projects. I provide structure, oversight, and volunteer committee coordination for the Franklin College Board of Advisors, and I manage all aspects of the Franklin College SkySuite.
What might people not know about your job?  I work with the best team on campus!! In order to serve an alumni base as large and diverse as Franklin's, you have to have people on your team who are willing to work together and collaborate well in order to best serve the needs of the college and its donors. I feel extremely lucky to have them in my corner.
Where can we find you?
Time in DAR: 13 years. I started my career at UGA in February 2010, working as a development associate for then Associate Dean for External Affairs Linda Bachman and eventually found my calling in the stewardship profession (thanks to the guidance of folks like Sara Cook and Tony Stringer).
Why do you love working here?  The people! I love the people that I get to work with every day. We all recognize how special UGA is and want to make it accessible for as many students as possible.
What have you been most proud of working on?  One of my favorite recurring projects I have implemented during my time in Franklin is providing Valentine's Day gifts to every UGA faculty and staff member who donates to the college. Our faculty and staff work hard every day, and I enjoy getting the opportunity to recognize them for their contributions. In addition to my Valentine's Day stewardship project, I always look forward to volunteering at Thank A Donor Day (now known as Dawg Day of Gratitude). Educating students about philanthropy at UGA with my fellow Stewies while enjoying the weather and great music is so much fun!
Where did you grow up?  Macon, Georgia
Tell us about your family… I married my husband Clint in March 2020 (which I have to imagine was the last wedding in Athens before the pandemic hit!), and we have one dog named Nova who we love very much (maybe too much? No, never)!
On a typical Saturday evening, you can find me … Enjoying a good meal and spending time with my friends and dog, hiking or camping (or, let's be honest, binging a show).
Outside of work, I'm passionate about… my work on the board of directors for Books for Keeps, architecture and design, animals, travel, and my relationships with friends and family.
Something you might not know about me is … I spent my Christmas break in Finland! 10/10 would highly recommend. It's a beautiful country, even in -7 degree weather :)
We hope you learned something new about Mary Alston—we are lucky to have her on our DAR team! Feel free to reach out to her for information about Franklin College, or if you are curious about vacationing in Finland!
https://dar.uga.edu/wp-content/uploads/MaryAlstonKillen_1200x800px-2023-DarStar-V1.jpg
800
1200
Emily Munnell
https://dar.uga.edu/wp-content/uploads/UGADAR-logo-horizontal2.png
Emily Munnell
2023-05-07 20:12:18
2023-05-08 12:26:59
May '23 DAR Star: Mary Alston Killen