First-ever DAR SIC'Em Award Winners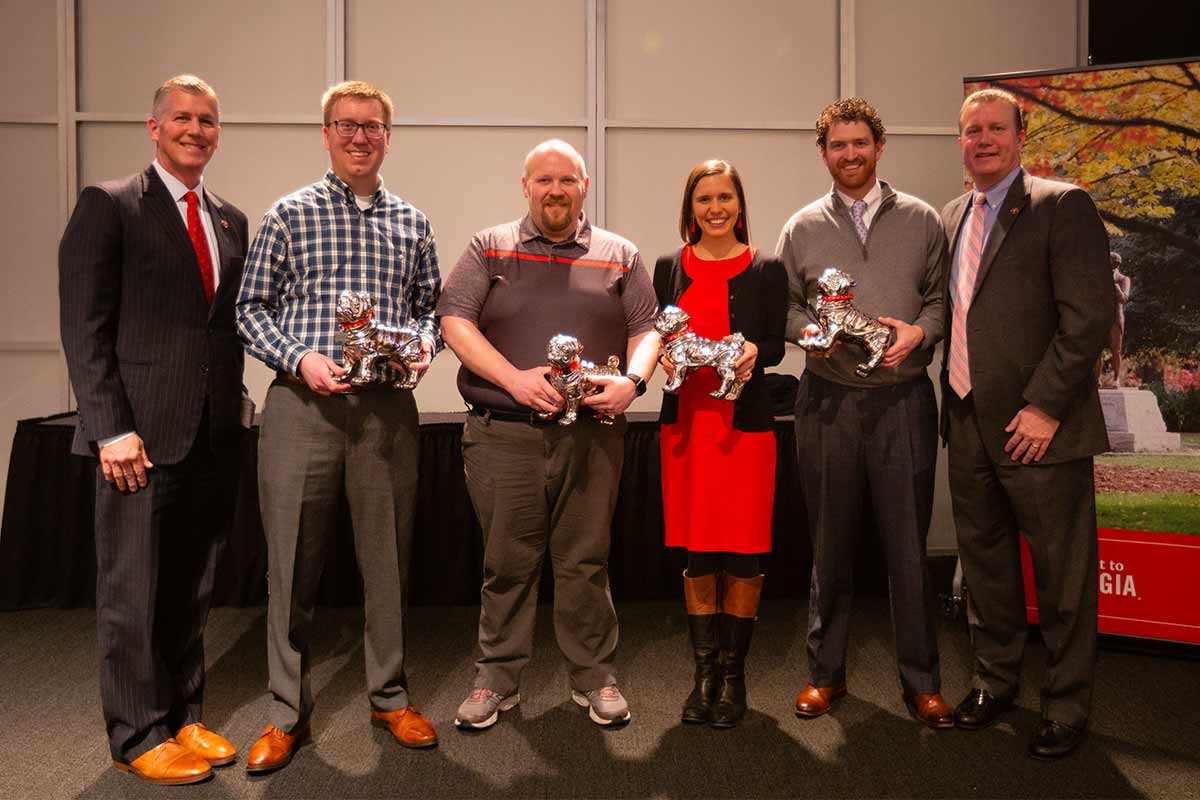 The purpose of the DAR SIC'Em Awards program is to recognize each other for going above and beyond in embodying the values of Servant Leadership, Innovation and Commitment.
We had an impressive 53 nominations for 36 individuals this first round of awards.  For many employees, feedback from their peers is even more meaningful than from their managers. Genuine appreciation expressed between coworkers demonstrates the positive impact people are making in the workplace.
The Special Meetings and Training Team studied the nominations, ranking each one on the specific definitions of the value for which they were nominated. Each nomination was ranked on a 30-point scale, based on the strength of the nomination itself. To ensure fairness, the Training Team made their selection without knowing who nominated the individuals. The committee selected the highest ranking nominees regardless of the value they represented.
Winners
Marcus Jennings
His nominator stated: Marcus is ALWAYS customer-service focused. He never shows frustration, impatience – he is always professional and his response time is one of the best in our division. He truly treats his colleagues like customers who deserve top-notch service and attention. One day a few months ago, I had three colleagues – in the same day! – mention to me how much they appreciate Marcus. That was a WOW moment. He was also the face of UGA for many years for the many alumni who visited the Wray Nicholson House, where Marcus gave each visitor undivided attention and care on a daily basis. While serving on the Year-End Celebration committee, no task was too small. From hauling heavy equipment, to picking up props from around town, to staying late and coming in early, Marcus volunteered for every single task. His remarkable commitment and nearly two decades of service make him deserving of this Sic 'Em award.
Rob Carrico
His nominator stated: Rob took me under his wing when I first started my job at the University. He celebrated my successes and picked me back up when things weren't going as well. Rob truly exemplifies what it means to be committed to your team and your duty as a DAR employee. Over the years, I have watched Rob go out of his way to collaborate with teammates all across campus when engaging with donors. While not always an easy task, Rob knows just how impactful it can be when you have multiple members of DAR coming together to design a cultivation strategy for a donor. Just recently, he collaborated with the staff from Athletics and the Terry College of Business to cultivate a donor. While he could have closed a substantial gift by himself, he had the vision and commitment to his team to include others in the process, ultimately resulting is a $1.2 million gift, much larger than he originally anticipated.
Brittany Rider
Her nominator stated: Brittany is always eager to jump in and help students especially related to the Georgia Commitment Scholarship Program. Brittany has a way of connecting with students so they feel special plus the ability to help each one of them understand why a donor would want to make a special investment. She goes above and beyond the call of duty, demonstrating dedication and accountability every day. Brittany's transparency and ability to communicate between Georgia Commitment Scholarship recipients and their donors during a difficult change in the interpretation of privacy laws demonstrates her "team first" mentality and positive attitude.
Jason Burdette
His nominator stated: I often joke that Jason's office needs a revolving door. He is always helping someone with something. He works tirelessly to ensure that his staff and campus colleagues have what they need to do their jobs. While he may run as the point person for many innovative new processes, he's always considerate of other's ideas. Jason is always good at including other team members in information gathering based on their expertise, never acting as if he is the only one able to provide an answer. No matter how busy he is, he always takes time to listen and help others first.
Congratulations to our winners!
https://dar.uga.edu/wp-content/uploads/SicEm-Winners-2.jpg
800
1200
Danielle Bezila
https://dar.uga.edu/wp-content/uploads/UGADAR-logo-horizontal2.png
Danielle Bezila
2019-01-28 11:54:44
2019-02-15 08:52:16
First-ever DAR SIC'Em Award Winners