Is Crowdfunding The Best Solution?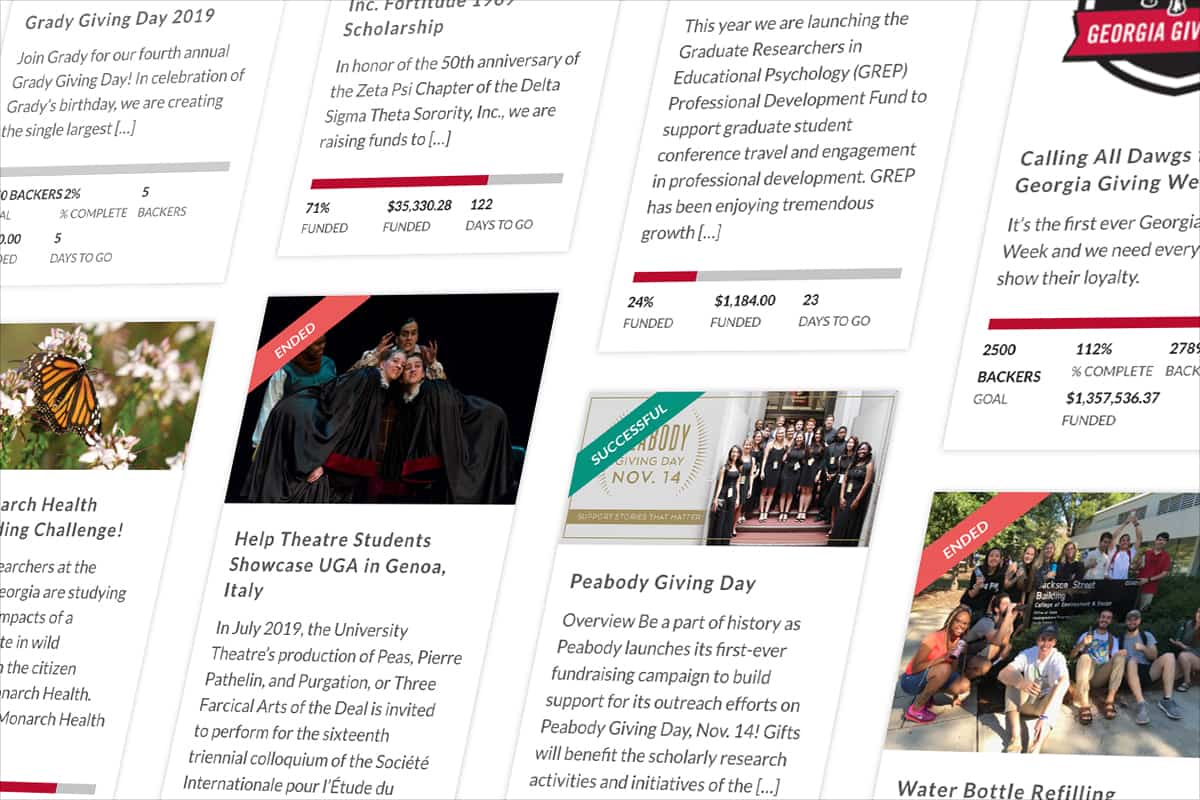 The University of Georgia launched GeorgiaFunder, our first crowdfunding site, in the 2013-2014 academic year. The money raised through GeorgiaFunder has created new scholarships, helped students learn outside of the classroom, and allowed faculty and staff to pursue innovative research. GeorgiaFunder has been an effective, valuable tool for many different projects and campaigns. However, in many cases, crowdfunding is not the best option.
Ask yourself these questions:
Do you have a specific dollar or donor goal with a fixed timeframe (i.e. $5,000 in three months or 100 donors in 24 hours). The most successful campaigns are the shorter ones.
Is your campaign relevant to a large number of people?
Do you have a plan to market your prospect? The old adage, "if you build it, they will come," doesn't really apply to crowdfunding projects – they're a dime a dozen. Your campaign will need support through social media, email marketing, face-to-face visits, or personal solicitations. And keep in mind that getting in front of a few key donors could pay big dividends for your campaign.
Will you have a special thank you to donors of this project? A successful campaign concludes with a thoughtful thank you note that updates donors on the status of your campaign and shows the impact of their dollars.
If you answered "NO!" to any of the above questions, crowdfunding probably isn't the best fit for your project.
There is no one-size-fits-all answer to crowdfunding.
Successful alternatives include:
A Special Giving Page is one of our favorite options. This allows you to create a page that includes pictures, videos, logos, a brief or detailed description of your project and, most importantly, a way to give. Here's an example.
A General Giving Form is another option. Some fundraisers are really looking for a way to direct donors to a space that specifically supports their cause. Maybe you already have your own webpage created and you really want to be able to include a "donate now" button at the bottom. These forms are great for those situations.
As a bonus, you can use either of these options indefinitely without having to worry about a pressure-packed deadline! The next time you think it's time to create a GeorgiaFunder project, take a moment and consider if it's the best vehicle. And if you have any hesitations or questions, don't hesitate to reach out to the Office of Annual Giving! We'll be happy to help find the solution that best suits your needs
https://dar.uga.edu/wp-content/uploads/blog-fundersite.jpg
800
1200
Danielle Bezila
https://dar.uga.edu/wp-content/uploads/UGADAR-logo-horizontal2.png
Danielle Bezila
2019-06-07 11:52:07
2019-06-10 17:25:04
Is Crowdfunding The Best Solution?