Second Cohort of Sic 'Em Award Winners Announced for Development & Alumni Relations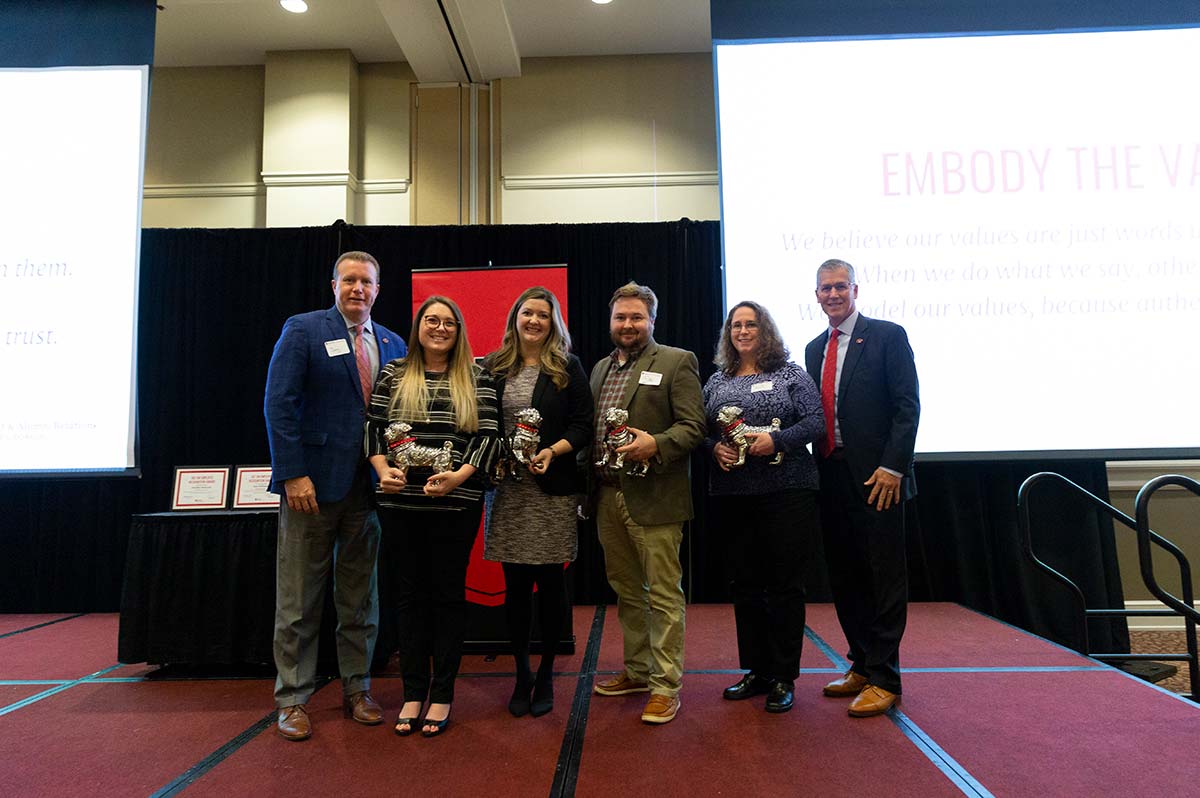 UGA Development and Alumni Relations recognized its second cohort of Sic 'Em award winners for embodying the values of Servant Leadership, Commitment and Innovation on November 13 at its Division meeting in Tate Grand Hall. Four staff members including Jennifer Hancock, Associate Director for the UGA Foundation; Kathryn Kay, Talent Acquisition Specialist in Talent Management; Lauren Schlesinger, Assistant Director for Scholarship Stewardship in Donor Relations & Stewardship; and Dan Williams, Assistant Director of Development for Public Service and Outreach were selected for their outstanding contributions by a committee of their peers among 40 unique nominations. The awardees were chosen by the Special Meetings and Training Team based on the strength of their individual nominations, which cited specific examples of how they embody DAR values at work.
Jennifer Hancock, Associate Director UGA Foundation (Servant Leadership)
Her nominator stated: Jennifer Hancock probably did not know what was coming her way when we created the Georgia Commitment Scholarship Program. The quick need and influx of over 450 fund agreements she had to create and process was a big shift in her work and a huge increase in workload. Through it all over the past three years, Jennifer has remained calm, helpful to all and so organized it is truly amazing. She knows where each fund agreement is in the process and can tell you at any time whose signatures we are waiting to secure. She sends reminders to nudge teammates to follow up. Her commitment to her job and this process has been really amazing to watch. I don't know how she does it all. And her calm demeanor and attitude make her a joy for all. For these reasons and her many years of work with the UGA Foundation make her deserving of this Sic 'Em award.
Dan Williams, Assistant Director of Development, Public Service & Outreach (Commitment)
His nominator stated: Dan is the first to step up to the plate to offer his assistance when something needs accomplishing in PSO. While this is always true, it's been especially so in the past three months during which time the State Botanical Garden has been without two development team members. For example, Dan stepped in to learn the Garden's processes regarding door acknowledgements. This took considerable time, and in the process he discovered some new efficiencies for the garden, which he then helped implement. Dan has been instrumental in working with sponsors for the Gardens of the World Ball and supporting staff in understanding GAIL and its many nuances. Although much of his work with the Garden does not fall within Dan's regular duties, he has been a reliable partner and incredible team member for staff at the Garden. He has demonstrated himself to be enthusiastically and fully committed to making sure things get done – and are done right.
Kathryn Kay, Talent Acquisition Specialist, Talent Management (Commitment)
Her nominator stated: Kathryn Kay really could be nominated to receive a Sic 'Em award in any of our three value categories, but I chose to nominate her for "commitment" because she works efficiently and effectively on behalf of our entire division when it comes to one of the most foundational building blocks of our success: recruiting and hiring. Upon notification that a position would need to be filled, Kathryn proactively reached out to schedule a meeting to discuss the entire recruitment and hiring process. She listened to our needs, informed us of best practices and next steps, and provided us with all of the application/resume materials. She has a wealth of knowledge and shares it willingly but respectfully — never trying to influence the process inappropriately. In a nutshell, I think Kathryn is committed to serving others well and is even more so committed to ensuring the "next generation" of DAR employees is absolutely outstanding.
Lauren Schlesinger, Assistant Director of Scholarship Stewardship, Donor Relations & Stewardship (Servant Leadership)
Her nominator stated: Lauren truly embodies the value of servant leadership and I believe she is in the perfect role to display this special attribute. It's in her work alongside of me as a fundraiser that I've seen her propensity to serve others on full display. Lauren has worked tirelessly to help me cultivate and solicit a seven-figure gift from a donor. She's built a true relationship with the donor-well beyond what I could do even as the fundraiser-and established enough trust to allow me to present the donor with a proposal. In all honestly, she has taken on the role as the fundraiser. She's put together events, tracked down students and alumni to write special notes and even orders the donors favorite desert when they are in town. She does all of this without complaint and without seeking any glory. When the gift does finally close, it'll be me who receives the "credit" for the gift. However, it will be Lauren who truly deserves all of the credit and she'll be the one tasked with stewarding the gift for years to come.
DAR launched its inaugural Sic 'Em Awards and Recognition program in January of this year to give colleagues a formal way to recognize each other for going above and beyond in embodying the values of Servant Leadership, Innovation and Commitment. According to Gallup, employees want to receive recognition every day. Genuine appreciation expressed between coworkers demonstrates the positive impact people are making in the workplace. The Sic 'Em Awards and Recognition program gives employees a chance to share feedback, praise and appreciation for each other. The ultimate goal is to create a dynamic culture where all employees are having a great experience.
Recipients received a silver Bulldog with a red collar and personalized tag commemorating this distinguished honor as well as a framed certificate from Kelly Kerner and Jay Stroman. Additionally, all nominees received a letter of recognition along with a copy sent to their supervisors. Congratulations to the following individuals who were recognized among a total of 56 nominations:
Caitlin Lacey
Calli Choe
Camille Liverpool
Cindy Bond
Clarke Schwabe
Dan Williams
Danielle Bezila
David Fields
Elizabeth Prince
Evan Tighe
Glenn Allen
Holly Weimer
Jan Blaine
Jan Nixon
Janet Lee Epperson
Jason Burdette
Jennifer Gary Hancock
Jeremy Daniel
Jeremy Ransom
Kate Lovin
Kathryn Kay
Kathy Bangle
Kelley Saussy
Lauren Cook
Lauren Schlesinger
Mallory Moye
Mariharden McElheny
Matt Brewster
Melissa Lee
Michelle Carter
Michelle Versfeld
Nyaboke Machini
Olivia Engesser
Scarlett Hart
Stephanie Harrison
Terrance Smith
Tyler Daniels
Wendy Johnson
Will Hearn
Wynell Harper
https://dar.uga.edu/wp-content/uploads/Blog-SicEm-2019.jpg
798
1200
Emily Munnell
https://dar.uga.edu/wp-content/uploads/UGADAR-logo-horizontal2.png
Emily Munnell
2019-11-20 13:41:05
2019-11-21 09:40:17
Second Cohort of Sic 'Em Award Winners Announced for Development & Alumni Relations