An Unlikely Pairing of Planned Giving and Stewardship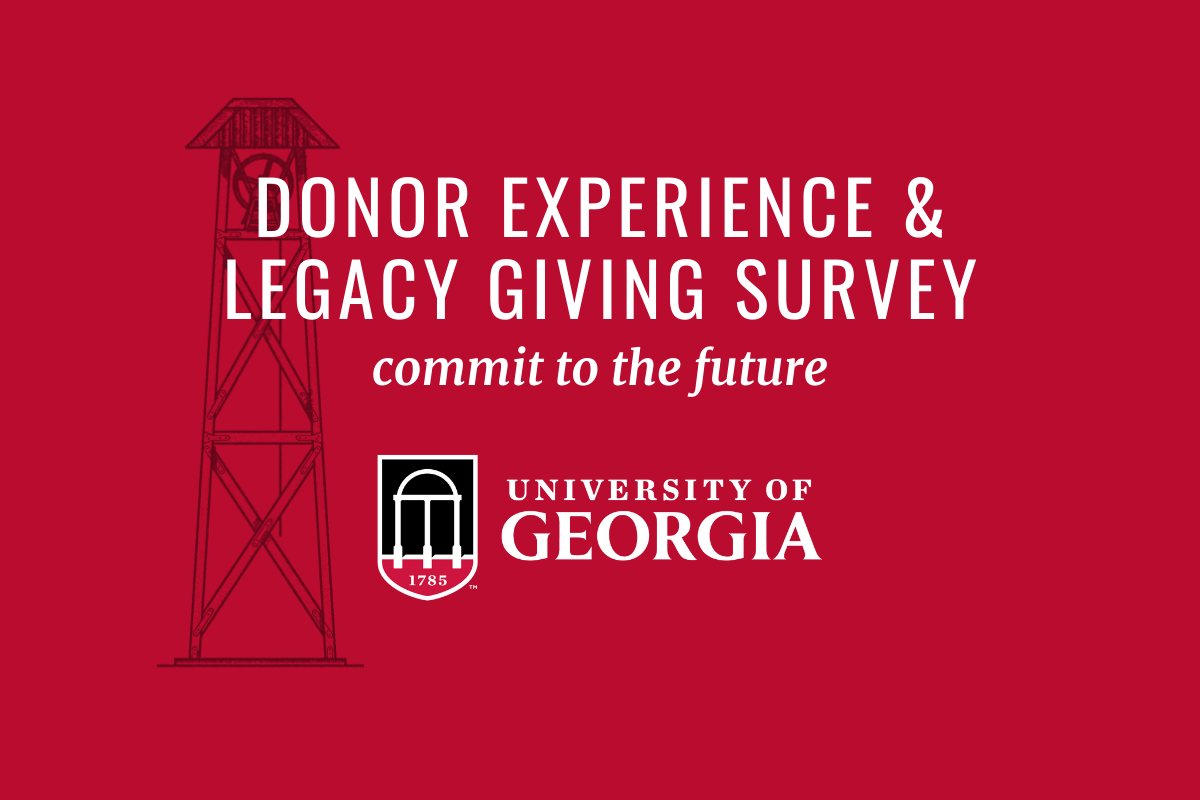 The Donor Experience and Legacy Giving Survey was initiated in 2019 as a seemingly unlikely collaboration across offices within Development and Alumni Relations. Gift and Estate Planning suggested that UGA utilize a survey as a fundraising tactic. This is already common in the field of planned giving, but many organizations invest a significant amount of cash to hire a consultant company to implement it. Luckily for UGA, a perk of working with a large research university is the wealth of resources at our fingertips. Gift and Estate Planning didn't have to implement it alone; they had access to human resources that other types of organizations do not! Turning to Donor Relations—a team that has become increasingly savvy with survey tools—turned out to be a match made in DAR heaven!   
The strategy of this survey involved asking current donors about their experience with the university. The targeted questions were specific to the UGA giving experience and ideally reminded donors that they are valued by our UGA family. At the close of the survey, donors were asked to choose their interest in continued giving and making planned gifts. 
The psychology behind this aligns with the assumption that people do not enjoy thinking about what happens after their death, but they do enjoy sharing their opinions. Surveys like this benefit organizations by untapping planned gift prospects and gaining a better understanding of what donors expect.  
With this plan in tow, Clint Travis, Alison Godley, and Megan Powell of Gift and Estate Planning, Melissa Lee of Donor Relations and Stewardship, and LeeAnn Haskins of the Department of Psychology set forth to develop a survey that could find new fundraising leads and assess the value of our stewardship. 
As you can see from the full report below, participant identities are confidential, and the responses were recorded based on lifetime giving and giving society membership to date, age, and alumni affinity. The reports created from this data illustrate overviews of responses based on giving habits: loyal giving, leadership annual giving, and major giving. 
Donor constituencies included were FY19 Third Pillar donors, FY18-FY19 Presidents Club donors, Heritage Society donors, and all donors over 40 years old who have given $1+ in their lifetime. Constituent records have been updated based on responses, including communication preferences and contact updates. Gift and Estate Planning has added codes reflecting constituents' individual interests in making future and planned gifts. Donor Relations and Stewardship has presented overall trends with Team Stewardship and plans to find ways to reflect specific types of answers through interactions on constituent pages.  
Thanks to a willingness to step outside of job descriptions, collaborate, and benefit from the knowledge of our incredible graduate students, this project is something DAR can be proud of!   
https://dar.uga.edu/wp-content/uploads/Survey-Blog-2.png
800
1200
Laura Nwogu
https://dar.uga.edu/wp-content/uploads/UGADAR-logo-horizontal2.png
Laura Nwogu
2020-04-03 11:30:43
2020-04-15 08:21:23
An Unlikely Pairing of Planned Giving and Stewardship