How to work with Corporate Relations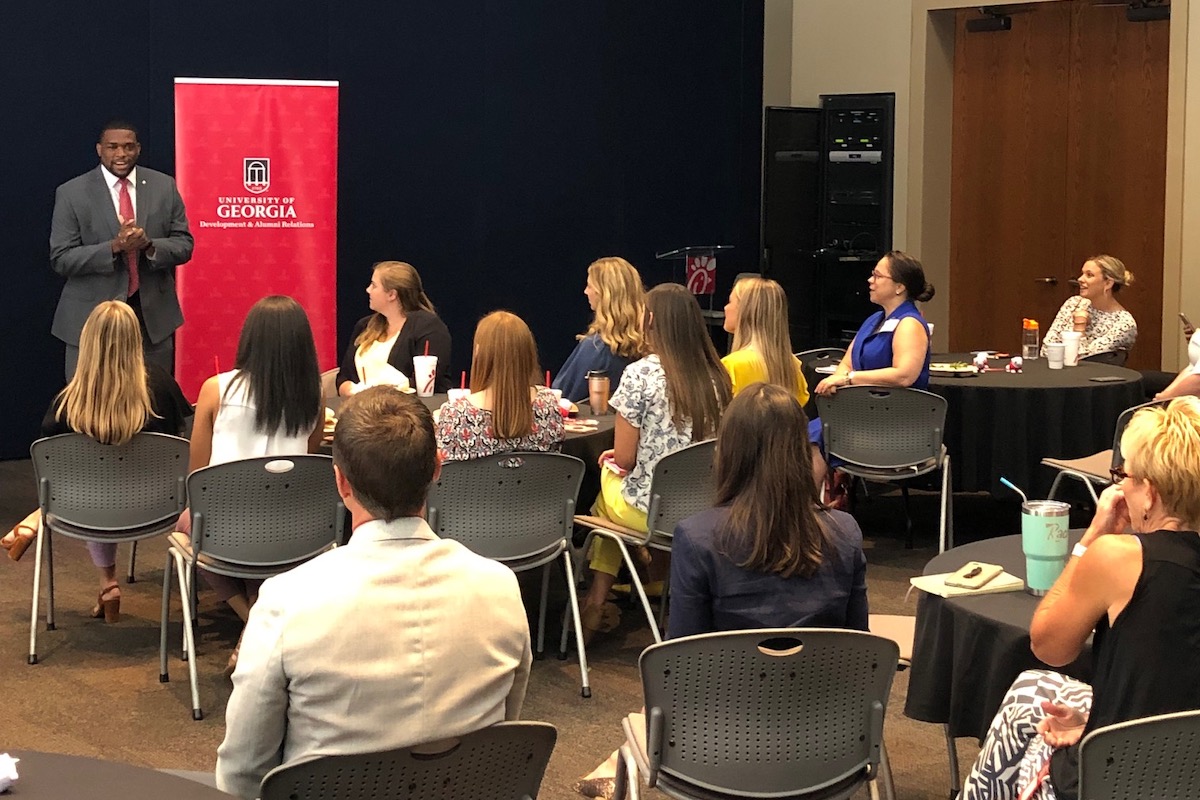 The Corporate Relations team works in a centralized office, collaborating with all schools, colleges, departments and units at the University of Georgia to learn about the dynamic, innovative work by our faculty, staff and students. We strive to be a resource both for corporations and campus, strategically aligning interests and creating meaningful partnerships in talent recruitment, industry engagement and program support.
Corporate Representative
If you are a corporate representative seeking information about research, talent recruitment and/or UGA's initiatives, our team is here to serve you. We believe in a tailored approach, providing information that is of interest to your company and connecting you with the appropriate individuals on campus.
We would be happy to host you on campus, meet with you in-person or make ourselves available for a phone call to discuss how a partnership with UGA can best support your company.
As the state's land- and sea-grant institution, we believe it is our responsibility to seek relationships that further research and economic, social and community development, as well as prepare and hire our students as professionals in the global society.
In these corporate partnerships, we want to provide strategic benefits such as workforce development and future employees; sponsored research; new technologies; employee training; executive education; economic development; and public service and outreach. To begin this conversation, please contact Stacy Stanford or Allison Chesnutt.
Our office works closely with the UGA Career Center when it comes to recruiting and hiring our talented students. If you have questions regarding career fairs and the online job platform Handshake, please contact Holly Getchell, Director of Employer Relations.
The Corporate Relations team also loves to connect with the Bulldog Nation. We could bring campus to you or bring alumni to campus. By engaging with corporations in this way, we aim to create opportunities for alumni and friends to connect, grow and serve together in the workplace. If you are interested in connecting with us, please contact Elizabeth Willimon, Assistant Director of Corporate Relations. To learn more about the Corporate Engagement program and campus visits, please visit our Corporate Engagement page.
UGA Faculty, Staff, and Development Team
If you are UGA faculty or staff seeking funding for research, programming, lab assistance or other initiatives, we would love to collaborate to find corporate partners. Our office is a resource for all of campus, working closely with Crystal Leach and the Innovation Gateway team to ensure all appropriate channels are informed and the research is mutually beneficial to all involved.
The Corporate Relations team strives to be an extension of your team, and we hope to empower development officers to have meaningful conversations with their prospects about corporate engagement. If an alum or prospect expresses interest in engaging their corporation with UGA, please reach out. The UGA Career Center can help schedule corporations at career fairs, register on the online job platform Handshake, and assist with employer relations conversations. The Corporate Relations team can assist in holistically engaging the company on campus – whether it's speaking in a classroom, participating in a capstone project or sponsoring research.
https://dar.uga.edu/wp-content/uploads/Photo-HowtoWorkwithCR.jpg
800
1200
Clarke Schwabe
https://dar.uga.edu/wp-content/uploads/UGADAR-logo-horizontal2.png
Clarke Schwabe
2020-07-10 09:43:32
2020-07-10 10:16:43
How to work with Corporate Relations