Building Interests for Message Targeting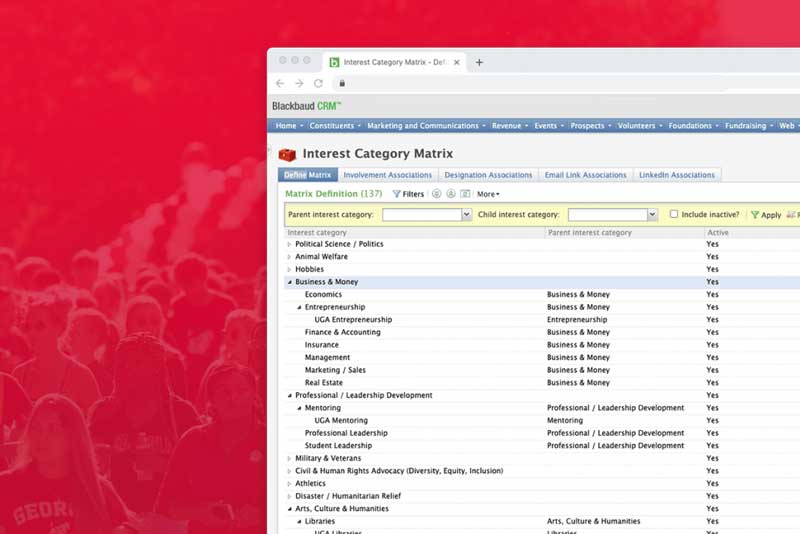 The goal of interest-based marketing efforts is to provide the audience with more relevant and tailored communications and programming. Knowing what interests your audience informs the content, activities and fundraising opportunities you choose to present to them.
For the constituent, that means less "junk" to wade through. For us, it means fewer opt-outs, improved engagement with programming and more efficient fund raising. A win/win!
Over the past couple of years, Tanya Crowe Boles and the recently retired Doris Cash have built a platform to support utilizing interests in our marketing efforts and invitations. Focused on known passions, hobbies and areas of expertise, a list of interest categories was drawn up based on giving causes, internal brainstorming, and third-party lists.
What constitutes an interest?
There are four primary ways a constituent may be attached to an interest group in GAIL:
Clicking a link included in an email sent through GAIL. If a constituent clicks a link that has a defined relationship to an interest, they will get put into the relevant interest group. For example, visiting a story from an email on Ted Ross' work will put that person in an infectious disease research interest group. Moving forward, he/she'd be more likely to receive a research-focused communication than someone else who did not click on a similar link in an email.
Making a gift to specific funds. A gift to the Service Animal Fund could put someone into the Animal Welfare and accessibility advocacy interest groups.
Registering for or attending an event. Attending a virtual book club or wine-tasting event could put a person into a relevant interest group (culinary and reading hobbies) and begin to establish a group of constituents who enjoy those activities to promote similar efforts in the future.
Interests can also be imported from a third-party, such as LinkedIn. Doing this is a great way to rapidly populate an interest area for an imminent marketing opportunity since established platforms like LinkedIn utilize user behavior (comments, likes, etc..) to assign interests to users on their platform. So, an import could bring in thousands of alumni into an interest group.
Don't see an interest you know is important to your donor/prospect? Propose that a new interest be added. All you need to do is email AskIT and propose it.
Curious about the interests of specific constituents?
So, how do you find a constituent's interests? You open their record in GAIL, click on the Personal Info tab and then the Social Summary tab. If interests have been added, they will be listed under Constituent interest details. In addition to seeing what interest groups the constituent belongs to, you can also see what actions that constituent took to be considered a member of the interest group. You can also associate a new interest on this screen. Keep in mind though, you will need to add a note that contains a reason the interest was added to the record.
At this stage, you may find that many of the constituents you look up are not added to any interests. That is because it will take time for the actions outlined above to take effect.
Embrace interests!
The potential benefits of interest-based marketing are clear, but to be most effective, we need everyone to get behind this. Input interests when adding to a constituent's record after an engagement. Tag links to interests within email communications—Kalah Mingo is here to help, if needed, or you can reach out to me.
Also, please let us know if there is a LinkedIn group or organization that would be helpful in tagging Alumni to a specific interest via AskIT.
Together, we can make DAR communications more relevant, more efficient and more effective—something we should all have an interest in doing.
https://dar.uga.edu/wp-content/uploads/featureimage-Buck-Blog-2021-DARWebsite-1030x687-1.jpg
534
800
bsharp_uga_74
https://dar.uga.edu/wp-content/uploads/UGADAR-logo-horizontal2.png
bsharp_uga_74
2021-02-10 15:19:28
2021-02-12 16:36:32
Building Interests for Message Targeting