Collaboration Spotlight: Working together to save endangered plants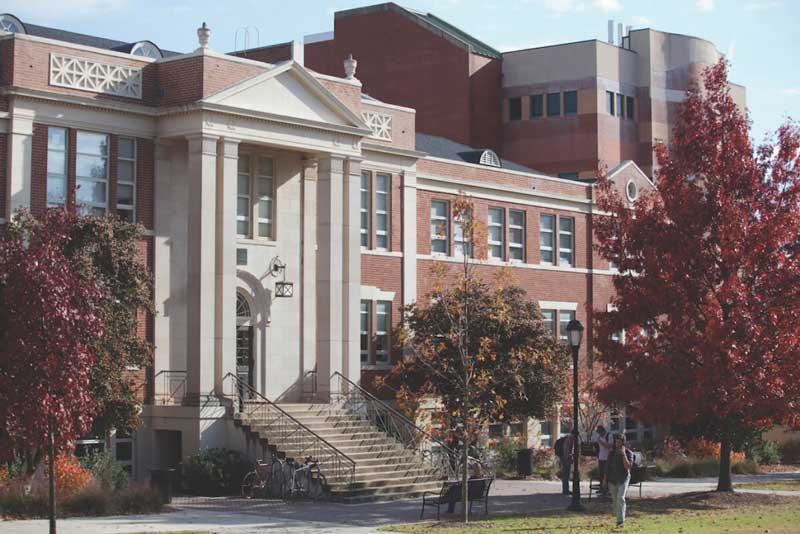 The Foundation Relations team fosters relationships with private foundations in order to yield meaningful partnerships across campus. As a centralized office, we help connect foundations whose interests and mission align with the university. We have the opportunity to collaborate across campus with all schools, colleges, and units.
A great example of these partnerships is a recent collaboration between the Foundation Relations team and Warnell School of Forestry and Natural Resources that resulted in two grants totaling $49,000 for ongoing research at Warnell that could have a significant impact in the field of endangered plant restoration.
When Shannyn Smith, assistant director of foundation relations, reached out to Warnell's director of development Bridget Harden about a grant opportunity, she was introduced to Warnell faculty member and associate dean for research Dr. Scott Merkle. Shannyn and Dr. Merkle discussed his research, and he introduced her to his colleague, Dr. Heather Gladfelter, who shared information about her ongoing research.
In that initial meeting, Shannyn made Dr. Merkle aware of a grant program that appeared to fit his research. The duo then collaborated on a proposal, took a Zoom meeting with the funder, and submitted for the grant, which ultimately netted a $29,000 award in fall 2020. That funding will support Dr. Merkle's efforts to develop North American Ash trees that are resistant or tolerant to the emerald ash borer, an exotic wood-boring beetle that has already destroyed millions of ash trees in dozens of U.S. states and Canada.
Shannyn and Dr. Merkle have continued working together to keep the funder updated on the progress of Dr. Merkle's research, in hopes of cultivating the foundation for continued support.
"Shannyn was great to work with," said Dr. Merkle. "She had previous experience with foundation personnel and knew just how to craft our proposal to meet their priorities."
But Dr. Merkle wasn't the only Warnell faculty member to benefit from an introduction to Foundation Relations. Shannyn also collaborated with Dr. Gladfelter on a grant opportunity arising from a different funder. That collaboration resulted in a $20,000 award for Dr. Gladfelter's research at Warnell that hopes to produce new variants of the rare Franklinia tree that are resistant to the root-rot caused by a prevalent pathogen that has rendered the trees extinct in nature.
These grants would not have been possible without the collaboration between Foundation Relations and Warnell Director of Development, engaging faculty, and the school's grants coordinator. The experience and expertise of the Foundation Relations Team at UGA can be an invaluable resource to the schools, colleges and units across campus. They stand ready to assist with any funding needs and questions.
https://dar.uga.edu/wp-content/uploads/FeatImg-2021-CollabSpotWFNR-V1-1030x687-1.jpg
534
800
Clarke Schwabe
https://dar.uga.edu/wp-content/uploads/UGADAR-logo-horizontal2.png
Clarke Schwabe
2021-02-12 14:35:48
2022-01-19 16:58:34
Collaboration Spotlight: Working together to save endangered plants