3 calendars in one? A new, easier way to submit events is here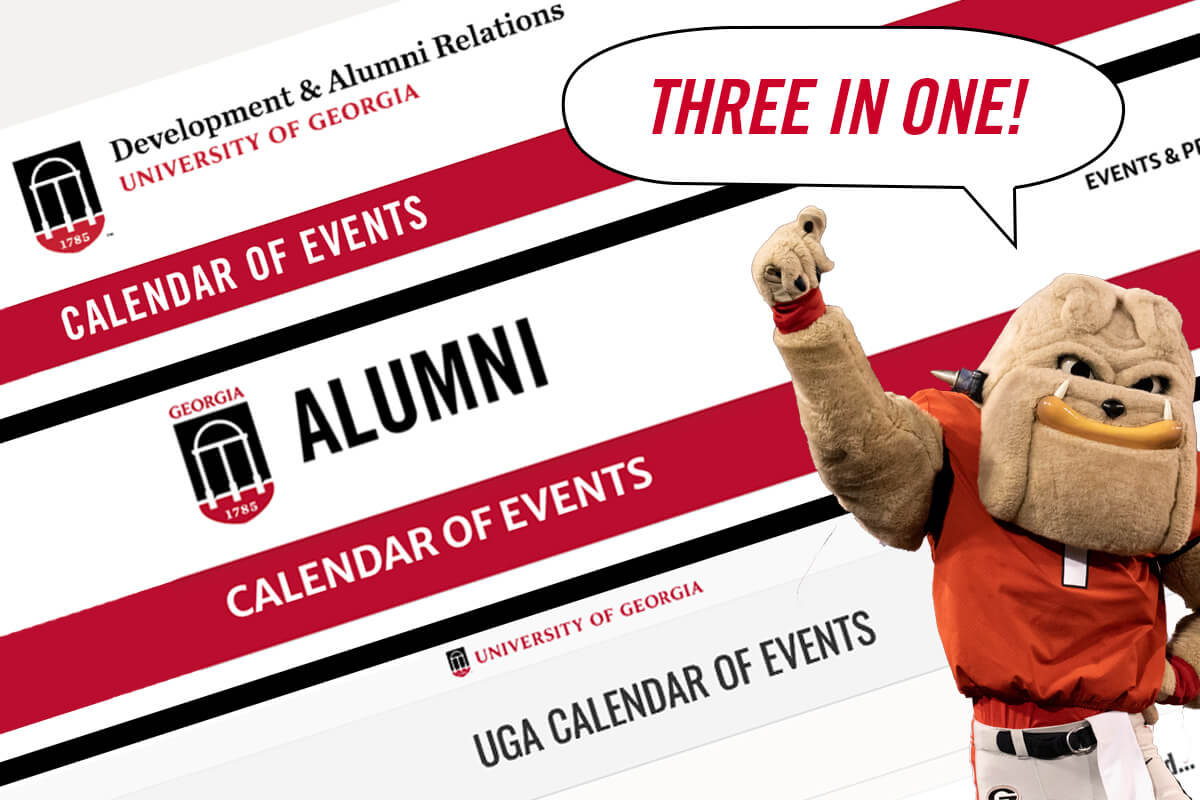 Have you ever tried to create an event that needs to go on both the DAR calendar and the Alumni calendar, or worse, the DAR, Alumni AND UGA Master Calendar (and maybe even a school/college-specific calendar on top of it all)? Each calendar has its own way to submit information, and if you haven't committed it to memory, you go through a process of searching through emails, sending messages, making phone calls, using trial and error and just generally gumming up your day.
Well, not anymore!
Now, you can submit your events in one place using one method, and they can show up on the DAR, Alumni or Master Calendars!
We've migrated our calendar operations to the same platform used for the Master Calendar. This platform, Localist, is maintained by UGA Marketing & Communications, with a full-time staffer dedicated to curating the events that are entered there.
We now have two sections of the Master Calendar that belong just to us: one for DAR, and one for the Alumni Association. Events we create that pertain to alumni will appear on the Alumni calendar, events that pertain to DAR will appear on the DAR calendar, and events that fit both can appear on both (as well as the Master Calendar, as long as the event meets the Master Calendar guidelines).
What does this mean for you?
You will submit events using the Master Calendar's submission process. Begin by going to calendar.uga.edu, then scrolling down to click on the Submit An Event button. The Master Calendar form is fairly self-explanatory, but I'll offer a few tips here.
The very first thing you should do when creating an event is scroll down to the Groups text field. Here, you can enter the units involved with the event in question. Begin by typing either "Division of Development and Alumni Relations" or "UGA Alumni Association," depending on which of those two your event is more closely associated (and if it feels 50-50, feel free to enter both). Then, you can enter more specific Groups: just start typing "DAR" or "UGA Alumni" and the form will suggest various DAR units for you to enter. It is vital that you include a DAR/Alumni Group or Groups, as these are required for an event to appear on the DAR and/or Alumni calendars.

If you would like your event to appear on the DAR calendar, make sure it includes the "Division of Development and Alumni Relations" Group.

In the description, try to remain as "news-like" in your tone as you can. MARCOMM prefers descriptions to be written in the third person (so, no "we" or "us") and to be only as long as they need to be (so, don't feel like you have to write out every last detail of the event).
When you're creating a new event, 99 times out of 100 the Status field should be set to Live. If you're looking for where you designate that an event is virtual, look down to the Experience pulldown menu.
The Event Contact can be someone outside of DAR, or even outside of UGA. This will come in handy for things like Alumni Chapter events, where someone in the chapter is in charge of the event. The Event Owner will still be you, the person creating the event, but you can designate whoever you like as the Event Contact.
For Photos, we recommend your image be a horizontally oriented (or landscape) rectangle with a resolution of at least 940 x 557. It is best that this image is a photo. Using a logo as the graphic doesn't always lead to best results.
In the Filters section, you can select as many filters as you want. So, you can have multiple Event Types, Audiences, Topics, etc. to adequately describe your event.
If your event requires registration but does not have a registration cost, make sure you place the registration link in the Ticket Link field but do not enter anything in the Ticket Cost field. By leaving that field empty, the registration button the Master Calendar generates for your event will read "Register" instead of "Buy Tickets."
The Master Calendar Help page also has a lot of useful tips for entering events.
One final note on event submission: if you need to submit a lot of events all at once, Localist has the ability to do just that by importing a CSV file that contains all the necessary information. This process will be used for events and event series like Welcome To The City and football game watching parties where we will know all the information about the events long in advance. For more information on bulk uploads, reach out to Clarke Schwabe.
And the last thing you need to know is that if you are a Content Captain, all you need to do right now is take 2 minutes to go to calendar.uga.edu, click the Log In link at the top of the page, and enter your MyID credentials. This registers you with the Master Calendar and allows you to create events.
This project will be an ever-evolving one, but it should save us all lots of time and confusion. If you have any questions about this transition, contact Clarke Schwabe.
https://dar.uga.edu/wp-content/uploads/FeatImg-2021-CalConsolBlog-V2.jpeg
800
1200
Clarke Schwabe
https://dar.uga.edu/wp-content/uploads/UGADAR-logo-horizontal2.png
Clarke Schwabe
2021-06-11 11:19:37
2022-11-17 14:55:58
3 calendars in one? A new, easier way to submit events is here