TikTok – A new way to reach Bulldogs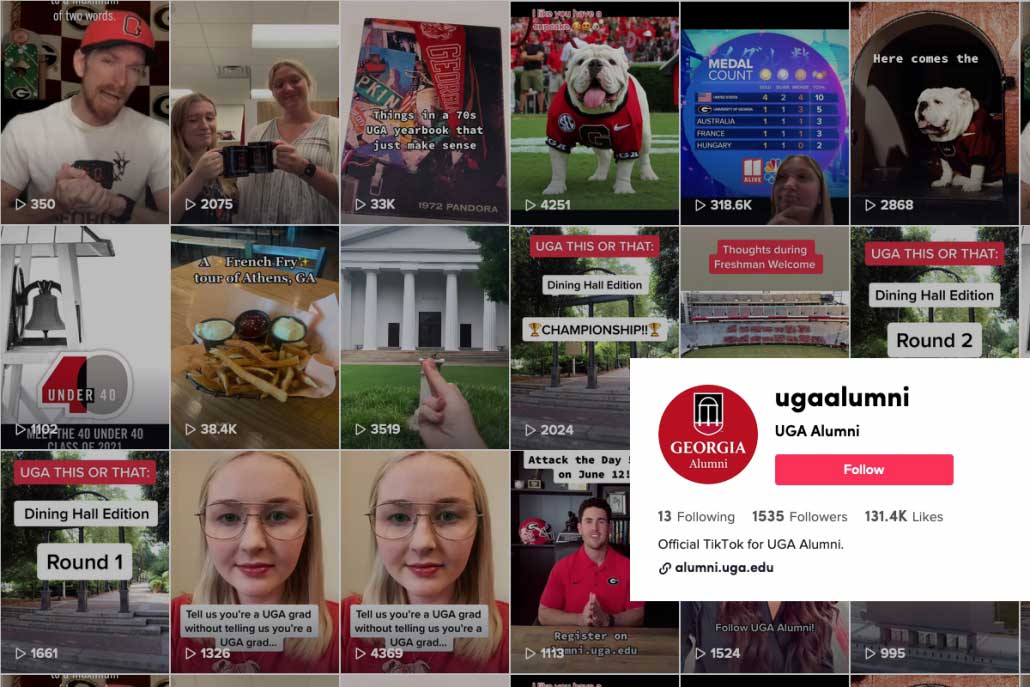 If you use social media on a regular basis, you've probably noticed video content from TikTok showing up in your timeline or feed on Instagram, Facebook, or Twitter. It's likely the videos are humorous in nature and involve transitions, dancing or lip syncing to audio that touches on relatable topics. Well, you may start to see UGA Alumni Association content appear as DAR has launched its first TikTok account.
Why?
The audience for TikTok skews young with 41% of users falling between the ages of 16-24. This is an important demographic for UGA because it includes prospective students, current students, and recent graduates. TikTok's popularity continues to trend up and the demographics of the app match well with our young alumni target audience. In order to communicate with recent grads more effectively, we decided to launch a UGA Alumni presence on TikTok.
How?
We launched the account with edits of our main brand video, rapid fire interviews with Drew Butler and Aaron Murray, and a call to follow our new account from sports broadcaster Maria Taylor. We quickly learned that for posts to really get the level of reach we desire, they need to be more like the humorous, lo-fi, self-produced nature of popular TikTok content. So, we tasked our student worker (also a gifted TikTok creator) to brainstorm content ideas for us.
We started with our highest performing video on Instagram that we thought could perform well on TikTok: the 2018 Freshman Welcome time-lapse video. We asked our student worker to add a TikTok spin to the video—and what she delivered became a viral hit.
Going Viral
The post (as of August 16, 2021) has received 896,600 views, 109,600 likes, 196 comments, 262 shares and generated more than 1,000 followers to our account. For context, the video (again, it was one of our top performers ever on Instagram!) only received 16,800 views and 1,700 likes on that platform. The difference is staggering and shows the capability of TikTok to match content and audience.
@ugaalumni##tbt to our Class of 2022 seniors during their Freshman Welcome! We're ready for you Class of 2025 on August 17!! ❤️🐾 ##godawgs
Looking Ahead
Why does it matter? The DAR Strategic Plan includes an FY22 goal to serve our audiences 35 million impressions of positive, UGA-related content. With just one TikTok post we are nearly 900,000 impressions closer to reaching that goal!
Many of those impressions weren't from alumni, but they were from parents, prospective students, fans, and friends of UGA—perhaps the next great donor, mentor, or volunteer is in that group and this content begins to lay the groundwork for a lifelong relationship with the university they love.
Follow Along
Even with the success of that TikTok post, our account is new. We are steadily building our following, so if you're a TikTok user (or are on the fence to finally see what the hype is about), consider giving us a follow.
https://dar.uga.edu/wp-content/uploads/tiktokblog-1030x687-1.jpg
687
1030
bsharp_uga_74
https://dar.uga.edu/wp-content/uploads/UGADAR-logo-horizontal2.png
bsharp_uga_74
2021-08-17 14:09:56
2021-09-10 11:44:47
TikTok – A new way to reach Bulldogs