Crash Course in Parent Giving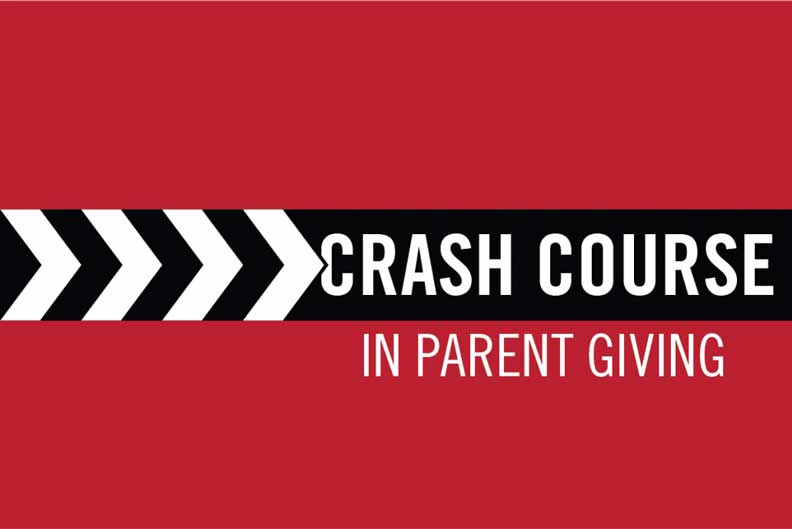 UGA parents play a powerful role in the lives of students on campus each year through their philanthropy. Our team is proud to partner with this important group and serve as a resource for you as you work with parent donors. So get ready for the official crash course in parent giving!
Lesson 1: What do UGA parents care about?
The health, happiness and well-being of their student. Find new, creative ways to ask parents about their children and offer to be a resource to them. You may even offer to meet their student for coffee on campus.
Mental health and student well-being initiatives.
Need-based scholarships to support students who may not be able to afford attending college on their own (often times, parents may be open to supporting this area of need thanks to the savings they experience by sending their kids to UGA with the HOPE and Zell Miller scholarships).
Activities that their children are involved in at UGA (i.e., study abroad, experiential learning, Greek Life).
Lesson 2: How can I best work with parent donors?
Incoming students – reach out to welcome the family and their child to UGA, ask what questions they may have, let them know about campus resources available to their child and share more about ways that parents may choose to be involved (Parents Leadership Council, donating clothing to the Professional Clothing Closet, attending a Signature Lecture, speaking to a group of students, UGA Mentor Program if they are an alum).
Freshman year – ask parents how they would like to be involved – as donors, volunteers, mentors or corporate champions. Share more about the Parents Leadership Council and the opportunity to meet new families through this group.
Sophomore and junior years – plug families in to opportunities in their child's school/college, invite them to attend events (virtual or in-person), introduce them to other parents in your unit, share more about the Parents Leadership Council, ask how you can serve as a resource to their child, discuss areas of support in your unit.
Senior year – this is often an ideal time to ask parents to consider making a gift to honor their child's UGA experience. Our team is currently working on creating materials that will outline senior legacy gifts in more detail.
Lesson 3: How can I succinctly share more about the Parents Leadership Council with interested parents?
The Parents Leadership Council is a philanthropic parent community that provides parents with an opportunity to meet new families while supporting student programs and initiatives on campus. Parents come together twice annually for gatherings on campus to meet one another, hear from campus leadership, and learn more about new areas of campus. Parents also commit to a $5,000 minimum annual gift that directly benefits student programs through the PLC Grants Program. The group provides a social and philanthropic way to connect to UGA – a win-win for parents and students!
Lesson 4: How can I partner with the Parent Giving team?
We are here to be a resource to you! Think of us as your parent experts on campus who are here to add value as you work with parent prospects. Even if a parent is not interested in joining the Parents Leadership Council, we can assist your cultivation efforts for major gifts.
Let us know about events taking place in your unit. We can invite our parent prospects and current PLC members, in addition to making introductions to staff in your unit.
Do you have all-star faculty members who would like to speak to the Parents Leadership Council on a particular topic and highlight your unit in the process? Let us know!
We can share Collaboration Station recordings with our parent donors! They enjoy learning more about different areas of campus, especially about their child's school or college.
Are you meeting a new parent or providing a tour (virtually or in-person)? Let us help you! We can make introductions to other parents, answer questions about the overall parent experience and highlight the philanthropic impact of parent support at UGA.
Lesson 5: What makes parent donors different from alumni donors?
Many of our UGA parents are not alumni, so they have not had a UGA experience prior to their child moving to Athens.
They often know more about different areas on campus than we do because they hear updates directly from their child.
Their first priority is ensuring the safety, health and happiness of their child.
Many parents are eager to learn more about UGA and create their own UGA experience alongside of their child, and we have the privilege of helping to create this pathway for them.
Our parents are some of our strongest connectors to industry partners, and they represent a variety of career paths.
Parents Leadership Council members can serve as mentors through the UGA Mentor Program, even if they are not alumni, and this is another way to add value to their parent experience.
Questions after class? Interested in collaborating? Please reach out!
https://dar.uga.edu/wp-content/uploads/crashCourse.jpg
529
792
Loran Posey
https://dar.uga.edu/wp-content/uploads/UGADAR-logo-horizontal2.png
Loran Posey
2020-11-11 14:57:18
2020-11-13 09:58:29
Crash Course in Parent Giving